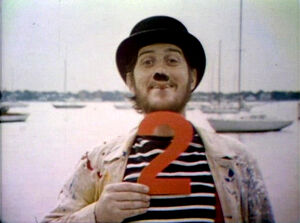 Luis insists that Herry Monster eat his breakfast, but Herry would rather build something. He becomes so impatient about building something that he gets angry when he sees Luis eating his breakfast slowly.
Susan invites Herry to play a sorting game using a book, a newspaper, a magazine, and a bowl of cereal. Herry becomes very angry when he sees the bowl. He thinks the whole thing is a trick to get him to eat his cereal.
The Count looks down, while counting his footsteps. Susan tells him that he can miss all the great things going on if he looks down. When the Count says that counting footsteps is great, Susan sings "Nearly Missed".
Roosevelt Franklin Elementary School: Roosevelt Franklin's class is feeling bored when he comes in, so he asks them to name some great people. Some of the names shouted out include Martin Luther King Jr., Joe Namath, Jackie Robinson, John F. Kennedy, Ray Charles, and Michael Jackson (Smart Tina says her pediatrician, which gets her funny looks). Roosevelt says those are all great people, but there are two they left out, and one of them is you. You are as great as you want to be and nobody can put you down. After their spirits are lifted, Hardhead Henry Harris asks who the other great person is. Roosevelt Franklin names himself as the class responds in mock derision.
(First: Episode 0515)
A Muppet demonstrates bigger and bigger circles and small and smaller circles. (EKA: Episode 0320)
Cartoon: A girl uses her imagination while sitting on a sofa.
Community content is available under
CC-BY-SA
unless otherwise noted.