Sesame Street
Plot
Snuffleupagus drinks soapy water from a bucket.
repeat of 0418
Air date
March 27, 1975
Season
Season 6 (1974-1975)
Sponsors
Y, 3

This episode guide has been compiled from materials at the CTW Archives.

ⓘ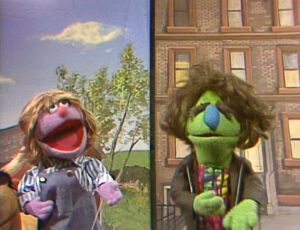 Mr. Snuffleupagus has paused to drink water from a bucket, not realizing that the water has soap in it. Snuffleupagus sneezes, producing hundreds of bubbles.
Sam the Machine tries to help Maria clean up a table, but instead he messes things up. In his attempt to help, he swallows the tablecloth. In returning the tablecloth to Maria, the rest of the trash comes back also.
Farley looks for "ME", asking, "Is this me?" Nope, it's a toy cat, and a pineapple, and a mirror. Looking in the mirror, he finds himself. (EKA: Episode 0720)
Maria and Oscar show here and there.
Film: While watching her goldfish, a girl wonders what the world is like from her goldfish's perspective. (EKA: Episode 0709)
Luis speaks to a Spanish-speaking child about pigeon care.
Cartoon: A cartoon man (voiced by Bob Arbogast) is irritated to find that he has a succession of animal noses.
Cartoon: A scientist builds a robot that has real feelings, such as sad, happy and afraid.