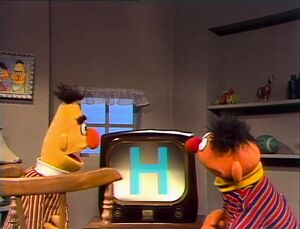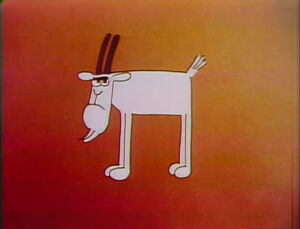 David has just finished painting a chair. Sam the Robot offers to make a "Wet Paint" sign for him. The first sign Sam makes is too small; the second is too big.
Oscar tries to stop David, Bob, Susan, and kids from having a good time at a game by telling them it's going to rain. David, Bob and Susan decide to make Oscar happy by letting them think he's tricked them about the rain. Suddenly, real rain pours down. Oscar is very unhappy when everyone thanks him for his warning.
Ernie & Bert — Bert complains when a big letter H appears on the TV screen, so Ernie turns off the set, unplugs it, and takes a bunch of H objects out of the TV (including a hat, a house and a hamster). When he plugs it back in, a big letter I appears on the screen. (First: Episode 0578)
Animation: A Scanimate/live-action hybrid segment in which an off-camera child and Luis name words that begin with H.
Ernie & Bert — Ernie wants Bert to pretend to be mad, but Bert says that he can't, because he has nothing to feel angry about. Ernie asks Bert to pretend that he borrowed Bert's paper clip collection, and lost his favorite paper clip. The thought makes Bert really mad. Bert gets tired out, and tells Ernie that he can't get mad anymore. Ernie makes a confession -- he really did lose Bert's favorite paper clip. (First: Episode 0216)
Susan sorts by class using baseball equipment and a banana.
Cartoon: In Spanish, a man makes everything in the room cerrada, and considers making the basket abierto if only for the guitar band inside.
Community content is available under
CC-BY-SA
unless otherwise noted.