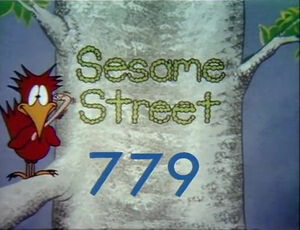 Picture
Segment
Description

SCENE 1
Bob greets the viewer while pushing Debo on the tire swing. He asks the other kids around if they have any older or younger siblings, then gauges how old each of them are (as well as the viewers). He then imagines what it was like when he turned six years old...

Cartoon
"I'm six years old today!"
Artist: Jim Simon
(First: Episode 0357)

Film
Some kids observe a woman drawing pictures of a building, and eventually guess that she's an architect.
(First: Episode 0768)

Celebrity
Richard Pryor plays all the parts in a scenario of two kids meeting a new kid who wants to play.




Muppets
Ernie & Bert — Ernie asks Bert to keep an eye on his pyramid of blocks. The Count walks by, and counts the blocks, moving them out of the pyramid shape. Then he counts them again, putting them back into the pyramid. Bert yells at the Count for moving Ernie's blocks, so the Count counts the blocks again, taking the pyramid apart.
(First: Episode 0406)

Film
At a fiesta, a group of kids try to break through a piñata.
(First: Episode 0619)

Cartoon
Speech Balloon: C for cat (impostor)
(First: Episode 0029)

Film
C is for cars on the highway.
(First: Episode 0469)

Cartoon
C - Cake
(First: Episode 0153)

SCENE 2
Susan and Mr. Hooper encounter Oscar looking for employment in the want ads; he needs extra money to buy a Malted Mud Machine. Mr. Hooper tells him that he's got a lot of dirty dishes at his store, and Oscar signs up.

Cartoon
A pirate has his mate dig for treasure, which is buried between two trees. The mate doesn't know what between means. He finally gets the message, but a parrot makes off with the treasure.

Celebrity
Richard Pryor recites the alphabet.

SCENE 3
At Hooper's Store, Mr. Hooper notices that Oscar is unhappy when washing dishes, because he regrets cleaning off all the gunk and grime that grouches love. With no position at the store that involves making things dirty, Oscar consults the newspaper again and notices a prime position has opened at the city dump.

Cartoon
"All right, now that you've eaten everything in sight, would you mind telling me what you plan to have for dessert?"
(First: Episode 0006)

Muppets
Two Anything Muppets with hair over their eyes recite the alphabet.




SCENE 4
Oscar, having scored a job at the city dump, revels in all the trash he's surrounded by. Rather than dump the contents of his first can onto the pile, he goes through it to find anything he'd like to take home with him. The foreman (Jerry Nelson) at first finds his new employee too slow, but when he later learns of Oscar's true motives, he issues him his pink slip.

Animation
Russian nesting dolls 10-1
(First: Episode 0563)

Muppets
Roosevelt Franklin Elementary School: Roosevelt Franklin instructs the class in an exercise: "Lean to the left! Lean to the right! Stand up, sit down! (That's alright!)"
(First: Episode 0729)

Cartoon
A man illustrates 'between' in various situations throughout his work day.




SCENE 5
Susan, Mr. Hooper, Luis and Bob meet Oscar, now a construction worker, out on the site. Oscar's job now is to help with the demolition of the buildings in the area and has the honor of detonating the explosives inside (shown as stock footage). The smoke from the wreckage drives his friends away before he gets the chance to blow up a second building.

Cartoon
A boy looks for the telephone as it rings.
(First: Episode 0684)

Muppets
Little Jerry and the Monotones sing "Telephone Rock."
(First: Episode 0733)
Cartoon
C is for Cowboy
(First: Episode 0703)

Animation
Sand C/c
(First: Episode 0625)

Cartoon
A man gets a letter C in the mail.
(First: Episode 0294)

SCENE 6
Luis, Bob, and Susan demonstrate between with some kids.

Cartoon
A mouse is squashed between two elephants.

Muppets
Muppet & Kid Moment — Ernie, Bert, and Shola illustrate "between".
(First: Episode 0542)

Film
Sesame Street Animal Films: A film of camels eating.
Music: Joe Raposo
(First: Episode 0388)

Cartoon
Three birds enter a cuckoo clock to do their job.
(First: Episode 0407)

Muppets
Sesame Street News Flash
Kermit the Frog witnesses how the mailman and salesman knock at the door while the Big Bad Wolf chases Little Red Riding Hood around the bed. Eventually, the Woodsman shows up, and Red and the Wolf chase him for cutting down a maple tree which was their favorite one.
(First: Episode 0621)

Cartoon
A red man tries to get apples from a tree by himself, while a yellow man builds a ladder.

SCENE 7
Bob sings the "Here Are Some Things:" three big boots and one small hiking shoe.

Cartoon
A boy needs a letter U to complete the word UP.
(First: Episode 0416)

Muppets
Muppet & Kid Moment — John-John and Herry Monster count to twenty.
(First: Episode 0441)

Cartoon
A man (voiced by Jack Dodson) describes places that begin with U and what you can do with the letter U.
(First: Episode 0416)

SCENE 8
Luis sings "Here are Some Things" in Spanish: three small 6s and one large 6.

Cartoon
Jazz #6
(First: Episode 0011)

Song
Sesame Street Animal Films: Joe Raposo sings "Weaver Bird."
(First: Episode 0372)

Muppets
Ernie & Bert — It's a sunny day at the beach, and Bert remembered to bring everything. Ernie, however, only brought an umbrella in case it rains... which it does.
(First: Episode 0284)

SCENE 9
Big Bird recites a poem about the octopus.

Film
Luis announces "And now, the octopus!"
Music: "Pomp and Circumstance"
(First: Episode 0291)

Cartoon
The Typewriter: C-cat

Celebrity
Richard Pryor uses his hat to participate in playing cars with kids.

Cartoon
C - Cake (repeat)

SCENE 10
The kids play with paddle balls as Luis announces the sponsors.