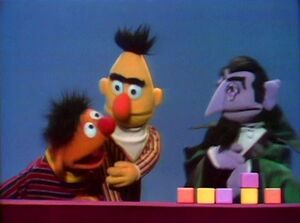 Oscar is looking for employment in the want ads. He needs extra money to buy a Malted Mud Machine. He gets a job as a dishwasher, but cleaning nice dirty dishes is no fun. He quits and gets a job at the dump.
Ernie & Bert — Ernie asks Bert to keep an eye on his pyramid of blocks. The Count walks by, and counts the blocks, moving them out of the pyramid shape. Then he counts them again, putting them back into the pyramid. Bert yells at the Count for moving Ernie's blocks, so the Count counts the blocks again, taking the pyramid apart. (First: Episode 0406)
Grover watches the Amazing Mumford practice a trick, making a rabbit come out of his hat. Mumford has trouble getting a rabbit to come out of the hat, and both he and Grover are oblivious to the fact that Grover is slowly but surely transforming into a rabbit. (EKA: Episode 0712)
Ernie & Bert — It's a sunny day at the beach, and Bert remembered to bring everything. Ernie, however, only brought an umbrella in case it rains... which it does. (EKA: Episode 0334)
Bob asks some kids how old they are; many reply that they're 6 years old.
Film: At a fiesta, a group of kids try to break through a piñata. (EKA: Episode 0678)
Luis sorts 6s by size in Spanish.
Community content is available under
CC-BY-SA
unless otherwise noted.