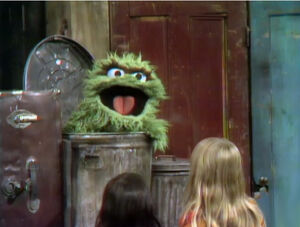 Picture
Segment
Description

SCENE 1
Loud crashes and bangs are coming from inside Oscar's trash can. Luis and Susan ask what's going on, and Oscar says that he's making something he likes... noise.

Cartoon
Two groups of mountain goats try to pass each other on a mountain road.

SCENE 2
Oscar invents a noise machine; everyone else hates it.

Cartoon
Two dots play hide-and-seek amongst different shaped blocks.

Song
Marilyn Sokol sings "Pockets" over a montage of different types of pockets.
(First: Episode 0764)

Film
Hippos
Music: Joe Raposo
(First: Episode 0415)

Muppets
Snow White accidentally visits the cottage of the six dwarves.
(First: Episode 0279)

Cartoon
Three men in a horse costume want three cups of coffee.
(First: Episode 0473)

Song
Joe Raposo sings "Pretty Baby."
(First: Episode 0040)

Cartoon
A tiny ant pushes the huge N into its place in the alphabet.

Cartoon / Film
Things that begin with N: nail, nest, net, notebook, needle, noodle, nuts, napkins, nose. (Don't make noise at night). The letter N is nice.
(First: Episode 0659)

Muppets / Cast
Kermit's Lectures: Bob holds an American bullfrog and asks Kermit to talk about frogs. However, due to living a somewhat different life than normal frogs, what Kermit says about frogs is somewhat incorrect; for example, Kermit believes that frogs eat fried chicken and pizza, and live in apartment houses.
(First: Episode 0277)

Cartoon
Five stripes make a circle.

Celebrity
Joe Namath counts down from 10 to 1.
(First: Episode 0428)

Cartoon
A boy builds a house out of blocks, and when the girl builds a Victorian house, the boy calls her a copycat.

Muppets
Western: A cowboy comes to see Adam T. Glaser, who is such a jack-of-all-trades that he forgets what a dentist does.
(First: Episode 0408)

Film
Flamingos
Music: Joe Raposo
(First: Episode 0450)

Cartoon
A bee looks for a flower.
Artist: Bruce Cayard
(First: Episode 0616)

SCENE 3
Susan plays the sorting game using dotted cards.

Animation
Sand N/n
(First: Episode 0633)

Cartoon
"Lowercase n"
(First: Episode 0358)

Muppets
Sesame Street News Flash: Kermit has received a phone call which tells him that there is someone who has been standing out in a terrible snow storm for a long time. Kermit asks everyone who passes by, "Are you that person?" But everyone he asks has been out in the snow for only a short time. Kermit refuses to give up, however, and tells us to stay tuned.
(First: Episode 0750)

Celebrity
Joe Namath and his team of kids make a football pass after counting to 1.
(First: Episode 0518)

Muppets
Sesame Street News Flash (cont'd): Kermit, now shivering a little, is still looking for the person who's been standing out in the snow for a long time. He even asks Farley, too. Still no success yet.
(First: Episode 0750)

Cartoon
The Typewriter: N for Nose
(First: Episode 0763)

Muppets
Sesame Street News Flash (cont'd): Kermit is now buried up to his neck in snow, colder than ever. He calls the attention of passerby Harvey Kneeslapper, who tells Kermit that he is the one who made the call, which was a prank call. As it turns out, Kermit was the one standing out in the storm.
(First: Episode 0750)

Cartoon
A top-hatted man tries to show a girl how many uses a box has, but she prefers kicking it.
(First: Episode 0763)

Celebrity
Joe Namath and his team of kids make a football pass after counting to 3.

Film
The Mad Painter #3
(First: Episode 0343)

SCENE 4
Luis, Susan, David, Jay and Big Bird play a rhyming game.

Cartoon
I Thought a Thought ... about small things. A man thinks about small things, and lists them. A sea monster thinks it is small, especially when compared to its father!
Artist: Cliff Roberts
(First: Episode 0241)

Muppets
Ernie & Bert — Bert hears the phone ringing inside a basket and asks Ernie to answer it. Ernie goes through the basket and finds a banana. He pretends it's a phone and gives it to Bert to talk on. Ernie answers the real phone and tells the caller that Bert can't come to the phone because he's talking on the banana.
(First: Episode 0004)

SCENE 5
When some kids invite Oscar to play with them, Oscar answers by singing "I Don't Wanna."

Cartoon
"One to Five Counting Animals Song"

Cartoon
Speech Balloon: L is for Lunchbox
(First: Episode 0031)




Muppets
Cookie Monster encounters a green napkin. Every time he squeezes the napkin, a new number appears, allowing Cookie to count up to twenty. This creeps him out, but what's even more creepy is when Kermit shows up inside the napkin at the end of the bit -- he's also green, after all.
(First: Episode 0619)

Cartoon
Kids hear an L poem.
(First: Episode 0198)

SCENE 6
Big Bird watches Hooper's Store while David is away. A Spanish-speaking kid comes in, asking for agua. Big Bird tries to figure out what agua means, and gets so exhausted that he pours himself a glass of water.

Cartoon
Donnie Budd sings about three trios of animals who live on a fat lady's lap.
Artist: Bud Luckey
(First: Episode 0299)

Cartoon
Two men work at a manhole; one is tired of the same day-in-day-out routine of it. The other says the boss has planned a surprise for them. A jack-in-the-box pops from the manhole.

Muppets
Muppet & Kid Moment — Grover and Heather talk how certain professions can have male and females performing them (such as doctors and mail carriers), and how they can get married.

Cartoon
Todo el mundo necesita agua

Cast
In the desert, Luis desperately searches for AGUA, but all the pumps are dry.
(First: Episode 0680)

Cartoon
A girl draws her version of a (stick-figure) man. A boy draws his version of a woman - the Mona Lisa.

SCENE 7
The sponsors are announced and the credits roll.