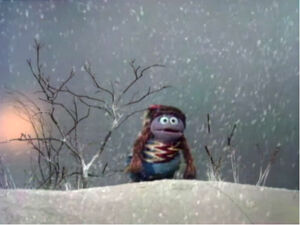 Oscar wins the Grouch of the Year Award, but he's disqualified when the judge overhears him saying that he has a glow in his heart, a smile on his lips and a good warm feeling inside.
Ernie & Bert — Bert is trying to write a letter to Mr. Rogers, but finds it difficult when Ernie operates his electric fan right next to him. Bert blows up at Ernie and says he is "hot and bothered," and Ernie has just the thing for that: more cool air. (EKA: Episode 0573)
Sherlock Hemlock tries to figure out why there's a terrible mess all over the yard – including horns, paper hats, cake, candles and crumpled-up wrapping paper. He decides that the mess was left over after a Twiddlebug dance. (EKA: Episode 0256)
Film: A gorilla sits on a park bench with a lunchbox full of bananas. Noticing the woman seated beside him, he decides to share his bananas with her. She keeps answering "YES" every time the gorilla offers one until he runs out of bananas.
Luis sorts by quantity using glasses of milk.
Film: A girl narrates a film of her grandpa putting a horseshoe on their horse. (EKA: Episode 0679)
The Alphabet Dancers make a letter L.
Cartoon: A dog answers "Yes" to every question.
Cartoon: A magician tries to make six circles disappear.
Cartoon: A boy acts out his feelings as animals. ("There's a zoo in me!")
Community content is available under
CC-BY-SA
unless otherwise noted.