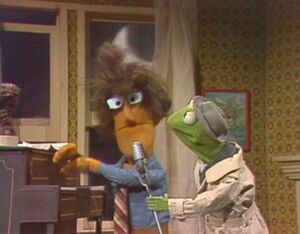 Mr. Hooper, who has taken the day off, enters his store to see David reading while on the job. But since there haven't been any customers, and when he sees that the reason why David has been reading was because he has to study for a law school exam, Mr. Hooper lets him take the day off studying in the Arbor Area while he goes to work.
Big Bird comes in to sit with David in the Arbor Area. Big Bird proceeds to study about the letter U as he takes out a ukulele and an umbrella out of his school bag as visual demonstration. David agrees to let him study with him as long as he is quiet...until Big Bird does something else that begins with U : going UNDER the table.
Maria studies with David, but a problem arises. Maria studies with her radio on, but David can only study when it's quiet. (This contradicts episode 0752, when David asks Sam the Machine to play music while he's studying.)
Cartoon: Vaudeville duo Herman Happy and Stanley Sad sing a song about how they live up to their names.
Film: Kids compare animals and human tools and technology.
Maria classifies by function using transportation methods and a trumpet.