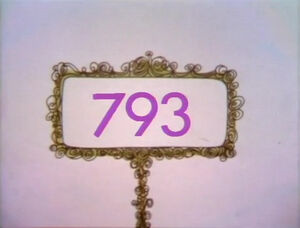 Picture
Segment
Description

SCENE 1
Harvey Kneeslapper decides to trick Luis and pretend he's talking too quietly. Luis greets Harvey, who asks him to speak a little louder. Luis increases his volume until, on his third try, his greeting is so loud that it gives a tremendous echo, reverberating across the whole neighborhood. Harvey is weirded out.

Animation
Two small stripes watch as two circles play with each other. The stripes try to bend themselves into circles, but soon find that they can both cooperate to make one big circle.
(First: Episode 0762)

Muppets
Caveperson Days: King Ernie has a problem -- the cavemen write everything on rocks, which are too heavy to carry around. He calls upon the Royal Smart Person to invent something lighter to write on.
(First: Episode 0409)

Cartoon
A witch turns a little girl into a variety of things, but the girl insists "I'm still ME!"

Muppets
Ice Follies: Big Bird does a dance routine on the ice (scored by "ABC-DEF-GHI").

Cartoon
The story of an old woman who lived in a nine.
Artist: Bud Luckey
(First: Episode 0512)

Film
Sesame Street Animal Films: Elk feeding.
Music: Robert Dennis

Muppets
Sesame Street News Flash: Kermit tries to tell the story of the Three Little Pigs, but five pigs show up. He realizes he's encountered the wrong group of pigs -- one of these pigs went to market, one stayed home, and so on (alluding to the game of "This Little Piggy"). Just as he gets things straight, the Big Bad Wolf shows up and, determined not to have his fun spoiled, huffs and puffs Kermit away.
(First: Episode 0737)




SCENE 2
Susan and Bob find Oscar visibly upset and calling for his worm Slimey, who's gone missing. Oscar then sings "Has Anybody Seen My Worm?" (to the tune of "Has Anybody Seen My Dog?"). Grover comes by and volunteers to be Oscar's pet. Grover shows his prowess by pretending to be a pussycat, but Oscar despises cute, little animals. Grover assures that he can be a pet to be proud of, and tells Oscar he'll be right back.

Cartoon
Three children are being chased by a giant mutant rabbit as fast rock music accompanies the chase. They outsmart him by hiding behind three trees.
Artist: Etienne Delessert
(First: Episode 0655)

SCENE 3
Grover returns dressed like a kangaroo and starts hopping frantically. Oscar complains of a stiff neck from watching Grover bounce, and his bobbing causes him to bang his head on the trash can lid. Oscar insists he doesn't want a kangaroo, which isn't a grouchy pet, and tells Grover to go away. Exhausted from hopping, Grover agrees that a kangaroo wasn't the best idea and goes off to think of something else.

Cartoon
Jack waters a B, which grows into a B-stalk. He climbs it and travels to the Land of B.
(First: Episode 0277)

SCENE 4
Grover comes back as a skunk; a pet that all grouches love, including Oscar. Grover's guise nearly works until he sprays Oscar with perfume. Oscar is disgusted and implores Grover to give up this dumb idea of being his pet. Grover decides instead to just get a new pet for Oscar.

Cartoon
A boy and girl have different feelings about Stanley.

Film
A man writes the word ME in the snow.
Music: Joe Raposo
(First: Episode 0294)

SCENE 5
Grover has his fishing gear on and tells Oscar he intends to get him a fish as his new pet. He shows Oscar all the items he has to go fishing, including some bait—Slimey! Grover explains that he found the worm at a nearby mud puddle. Oscar is reunited with Slimey, giving him a big kiss, and even thanks Grover (who comments that he would've preferred a kangaroo).

Cartoon
Big Daniel Boone looks for a bear.
Artist: Bruce Cayard
(First: Episode 0627)

Muppets
Ernie & Bert — Bert complains that he can't sleep, because Ernie left the faucet dripping. Ernie drowns out the sound of the water dripping with louder noises.
(First: Episode 0131)

Cartoon
Two cavemen argue, each chanting "Me!" A large monolith bearing the word ME puts fear in both of them.

Celebrity
The Pointer Sisters sing "Yes, We Can Can."

Cartoon
A man blows 7 bubbles.
(First: Episode 0639)

Cartoon
A hand draws a bridge, which a train crosses.
Artist: Whitney Lee Savage

Song
Joe Raposo sings "Families."
(First: Episode 0454)

Cartoon
A man tells a confused boy that he saw a bird on a tree, with both of their thoughts appearing on the screen.
(First: Episode 0565)

SCENE 6
Luis sings "Here Are Some Things" in Spanish, using an art board displaying rain gear in three of four squares. The fourth is blank, and off to the side are sunglasses and an umbrella.

Animation
Leaves and a tree trunk find the right place they belong.

Muppets
Ernie & Bert — Ernie is tall, Bert taller, and Big Bird is the tallest (and he also breaks the ceiling).
(First: Episode 0284)

Film
A trio of clowns from Ringling Bros. and Barnum & Bailey Circus illustrate tall and small.
(First: Episode 0519)

Cartoon
Gloria sings the alphabet (uppercase version)
(First: Episode 0140)

Cast
Mr. Hooper and Susan play astronauts on a mission on the Moon. Susan attempts to tally up the three moon rocks, which float off into space one by one (followed by her superior).
(First: Episode 0524)

Animation
Sand Y/y
(First: Episode 0626)

Film
The Mad Painter #9
(First: Episode 0338)

Cartoon
Y for yawn
(First: Episode 0301)

Celebrity
The Pointer Sisters sing "Hush Little Baby."

Song
"Who You Looking At, Tiger?"
(First: Episode 0371)

Cartoon
B is for bear, bicycle, bump, branch and bee.
(First: Episode 0008)

SCENE 7
B Quickies: Bob flips a matted letter B into the basket above Big Bird's doors and scores two points. Susan sits on the stoop with a little kid on her lap. Suddenly, a big bushy beard pops onto the kid's face.

Cartoon
At the beach, the Bee Bee and the Barker family greet each other while saying their names that begin with the letter B.
Artist: Bruce Cayard
(First: Episode 0627)

Muppets
Ernie & Bert — Ernie is sad because it's raining and he can't play baseball. Bert encourages him to imagine that he's playing instead. In Ernie's imagination, he hits a high fly ball that lands in the ocean. Bert tells Ernie that the sun is out, and he can go out and play now. Ernie says that he can't play -- his ball fell in the ocean.
(First: Episode 0410)

Film
A boy compares the growth of the sunflowers to his own height.
Music: Joe Raposo
(First: Episode 0589)

Cartoon
Jazz #9
(First: Episode 0137)

SCENE 8
Big Bird reads a poem he wrote about the koala bear, as a segue into the next film.

Song
"Rockabye Baby" is sung to a sleepy koala.
(First: Episode 0048)

Film
A lowercase b floats by some boats.
(First: Episode 0471)

SCENE 9
Bob and the kids play in the Arbor while Grover announces the sponsors.