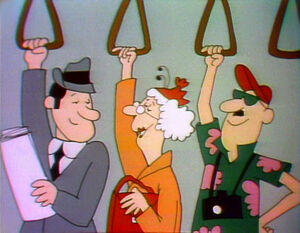 Ernie & Bert — Ernie thinks that he isn't special. Bert tells Ernie to feel his nose -- "That's an Ernie nose!" -- and then feel his hair, and wiggle his fingers. Bert says that nobody else is just like Ernie. Encouraged, Ernie tells the audience to do the same. (First: Episode 0276)
Muppet & Kid Moment — Big Bird and Crystal demonstrate "big" and "little". Big Bird tries to pretend to be little, and the girl will be big -- but it doesn't work; Big Bird is still big.
Animation: Kids narrate a Letter 'Z' Drawing
Bob dressed up in baseball gear and Big Bird tries to guess what what game he's going to play.
Using small abstract shapes, Bob and the kids play the sorting game.
Cartoon: Passengers on a crowded subway illustrate "between."