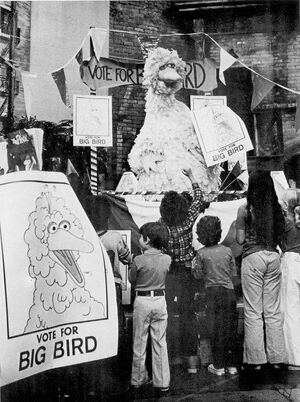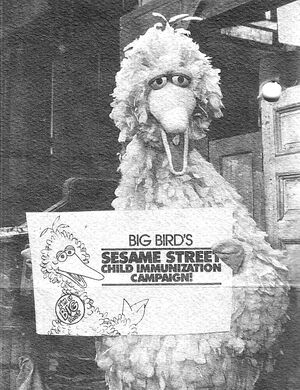 Season 7 introduces a new curriculum about the government, to tie in with the Bicentennial celebrations of 1976. To kick off that curriculum, Big Bird decides to run for President of the United States in this episode.
Oscar tries to get rid of three old cans, so he can have more room inside his trash can. Luis and Maria find a good use for two of them. Oscar decides to keep the third one, because it's kind of an old favorite of his.
Big Bird is convinced that he could make a good president. He sings a song called "President Bird". Big Bird becomes president, without realizing that he has to think of everybody's needs.
Cookie Monster encounters a green napkin. Every time he squeezes the napkin, a new number appears, allowing Cookie to count up to twenty. This creeps him out, but what's even more creepy is when Kermit shows up inside the napkin at the end of the bit -- he's also green, after all.
Street cleaners find campaign buttons after Big Bird's political rise and fall. They sort the buttons by size.
Ernie & Bert — Bert shows off his bottlecap collection to Ernie, who remembers that he found a Figgy Fizz bottle cap -- the very one that Bert needed to complete his collection. (EKA: Episode 0257)
Animation: An orange pops out of a basket of fruits and gets "made up" as the face of Carmen, the role in the opera of the same name. While singing "Habanera", the famed aria from the opera, Carmen loses her "face" and can't resume singing until the wig returns. (EKA: Episode 0277)
Cartoon: A girl demonstrates that she is scary-looking to a sleeping monster.
Cartoon: "The Story of A" -- A witch tells bored kids a story about the letter A involving an ant's apple getting stolen by an archer. (First: Episode 0130)