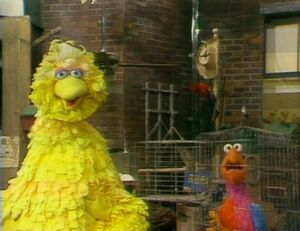 Big Bird asks Herry Monster to wake Luis up so he could go back to work, but he has trouble deciding what is the best way to wake him up... such as banging, knocking with a feather, or throwing a tomato at the door. He eventually depends on Poco Loco the parrot to help him.
Ernie & Bert — Ernie can't decide which of the two different shelves he should place a large vase on, so Bert tells him to use his imagination. Ernie imagines the vase falling off the little shelf and Bert kicking him out of the apartment. Then, Ernie imagines putting the vase on the big shelf, and Bert rewarding him with a big surprise party. (EKA: Episode 0310)
The Count's bats are upset; he always gets to count, but the bats don't. The Count decides to let the bats count all of the Counts, while the Count counts all the bats... but there's only one Count. (EKA: Episode 0745)
Ernie & Bert — Bert is trying to write a letter to Mr. Rogers, but finds it difficult when Ernie operates his electric fan right next to him. Bert blows up at Ernie and says he is "hot and bothered," and Ernie has just the thing for that: more cool air. (EKA: Episode 0573)
Eggs are used to show some, more and most.
Maria, Luis, Gordon and the kids perform some quickies about the letter R.
Film: At a fiesta, a group of kids try to break through a piñata. (EKA: Episode 0678)
Big Bird and Poco Loco announce the closing sponsors.
Notes
Community content is available under
CC-BY-SA
unless otherwise noted.