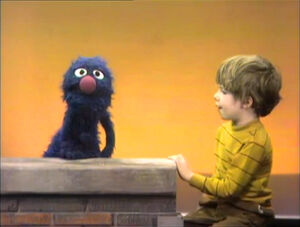 Herry Monster has built a tower in the middle of the street, which makes everyone upset -- the tower blocks the whole street. Everybody yells at him for building the tower. Herry and Oscar end up as friends; they're the only ones who get yelled at on Sesame Street.
Herry makes a letter B with bricks, and places it next to Oscar's trash can. Then he makes words that start with the letter B.
Ernie & Bert — Ernie has a so-called "magic" chain which can form into any shape he wants. Bert is dismissive of the chain's magic properties. And yet, when Bert asks for the chain to provide a sandwich, it does. (EKA: Episode 0680)
Big Bird feels that sometimes a song can help you get an awful feeling out, so he decides to write a wake-up song.
David and the kids look for B words all over the street.
Cartoon: Things that are same and different.