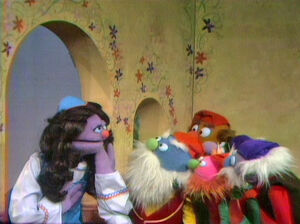 Cartoon: A mouse tries looking for his pet, describing to his friend what they did yesterday.
Ernie & Bert — Herry Monster holds a sign with the word NO on it, and tells Ernie that he can make him read his sign, to which Ernie replies "Oh no you can't!" When Ernie gets the joke, he tries it on Bert, but the gag backfires on him when Bert bets he can get Ernie to read the sign. (EKA: Episode 0676)
The Count forgets what number comes between two and four.
Ernie & Bert — Ernie has gone shopping -- buying bread for himself, and peanut butter for Bert. They realize that it's dull to eat what they have separately, and they decide to cooperate, so they can each have a peanut butter sandwich. (First: Episode 0279)
Mr. Snuffleupagus wants to show everybody the new striped overalls that his mother made for him. Bob sees Snuffy, and runs to tell everybody. Big Bird hears Bob's story, but decides that he couldn't have seen Snuffleupagus -- Snuffy doesn't have black and white stripes.
Film: The celebration of Chinese New Year
Cartoon: "E Imagination": A surreal story of a boy eating a peach atop an eagle witnessing a queen on her knee, dreaming of eating ice cream in a land of steam. (First: Episode 0001)
Cartoon: A man explains that the letter E begins both Enter and Exit. Another man named Roy runs through the doors. (EKA: Episode 0406)
Notes
Community content is available under
CC-BY-SA
unless otherwise noted.