Sesame Street
Plot
Sam the Machine tries to prove he has feelings
Air date
December 17, 1975
Season
Season 7 (1975-1976)
Sponsors
E, U, 4

This episode guide has been compiled from materials at the CTW Archives.

ⓘ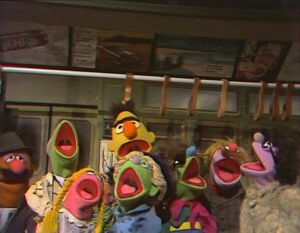 Herry Monster asks the kids at home to do simple exercises with him like moving eyebrows, touching toes with fingers, and running in place.
Herry is angry because he doesn't know how to put his new barbells together.
Cookie Monster: Cookie Monster sees styrofoam letters that spell the word FOOD. After he sounds them out, he dons a bib, sprinkles salt and pepper on the letters, and eats them ... and then eats the bib. (EKA: Episode 0723)
Big Bird tries to show his new transistor radio to everyone, but nobody's interested in hearing about it.
Cartoon: A man (voiced by Jack Dodson) describes places that begin with U and what you can do with the letter U. (EKA: Episode 0494)
Film: A film of camels eating.
Nelly counts from 1 to 10, then back.
Cartoon: A picture of a girl playing a guitar is drawn as off-screen kids (speaking English and Spanish) try to guess what the drawing will be. (EKA: Episode 0406)
Cartoon: A man learns that it's better not to pick the flowers.
Cartoon: Three birds enter a cuckoo clock to do their job. (EKA: Episode 0543)
Cartoon: A woodpecker drills through a tree to demonstrate entrada and salida.
Notes