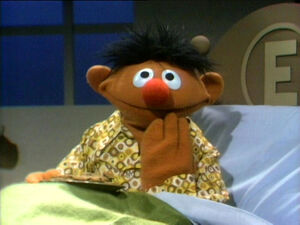 The cast returns from their trip to New Mexico, and they're welcomed back by their friends.
Everybody wants something from David while he's working at Hooper's Store -- and he's so busy, he doesn't have time to help everyone. His friends decide to cooperate and help him out.
Big Bird tries to stop Bob from going to mail some letters by telling him all the bad things that might happen while he's going to the mailbox.
Ernie & Bert — Ernie says that he has "flying fingers", and tries to find ten different things that his fingers can do. (EKA: Episode 0676)
Big Bird wants to know what he's best at, and he asks Mr. Snuffleupagus for help. After considering counting, reciting the alphabet and skating, Snuffleupagus tells Big Bird that he's best at being his best friend.
Cartoon: The man is only afraid of one thing: FEAR.
Cartoon: A race announcer doubles as the man who holds up the START and STOP sign. (EKA: Episode 0776)
Cartoon: At the circus, Tommy Trueheart displays his 11 trick-performing lions.
David, Bob, Biff and the kids sort sandwiches and a hamburger.
Community content is available under
CC-BY-SA
unless otherwise noted.