Sesame Street
Herry thinks that the only way he can get attention is by lifting heavy things
Air date
December 30, 1975
Season
Season 7 (1975-1976)

Sponsors
C, O, 12

This episode guide has been compiled from script materials provided by a trusted source.

ⓘ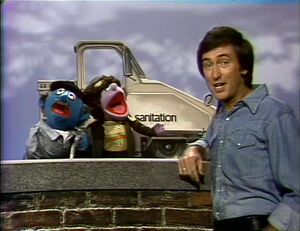 Picture
Segment
Description

SCENE 1
Herry Monster tries to get the attention of Gordon, Luis and Susan by lifting a barbell, but they're busy, and besides, they've seen him do that already. He tries lifting the 123 building, but fails. He breaks down in tears, thinking no one will like him if he can't lift heavy things. Luis and Susan reassure him that he would be liked even if he could only lift a feather. Gordon arrives, having just fixed a tricycle, and Herry gives him the same speech.

Cartoon
C is for clipper... and captain, crew, cargo, cookies, cantaloupe, cabbage, candy, cake, and corks that the crew eats (some by mistake).
(First: Episode 0253)

Film
A girl narrates a film of her grandpa putting a horseshoe on their horse.
(First: Episode 0505)

Muppets
Ernie & Bert — Ernie approaches Bert in a harried manner, talking rapidly. Bert tells him to talk slower so he can understand him. Ernie says, slowly, that Bert's bread is burning in the oven, which causes Bert to speak in the same rapid, harried manner.
(First: Episode 0323)

Cartoon
A supermarket worker stacks 12 cans, which keep collapsing every time someone grabs one.
(First: Episode 0782)

Film
Flamingos
Music: Joe Raposo
(First: Episode 0450)

Cartoon
A red man illustrates abierto, while an angry blue man shows cerrado.
(First: Episode 0784)

Muppets
Cookie Monster sings "C is for Cookie."
(First: Episode 0372)

Cartoon
C - Cake
(First: Episode 0153)

Film
A gymnast demonstrates slow.
(First: Episode 0507)

Cartoon
A bear counts bees
(First: Episode 0083)

Cartoon
A man (voice of Bob Arbogast) talks about his favorite letter, C, which is for cat. He opens a door to reveal a lion.
(First: Episode 0032)

Muppets / Cast
Bob sings "The People in Your Neighborhood" with the oil man and street cleaner.

Cartoon
Speech Balloon: C for carrot
(First: Episode 0203)

Song
Joe Raposo asks the musical question, "Which Comes First, the Chicken or the Egg?"
(First: Episode 0276)

Cartoon
Four firetrucks, telephones, ships and men file into a large contraption that produces 4s.
(First: Episode 0798)

Muppets
Ernie & Bert — Ernie stacks cups and saucers in order to count them, making Bert quite nervous. Luckily, they're glued together.
(First: Episode 0586)

Cartoon
C for canary (role reversal)
(First: Episode 0703)

SCENE 2
Herry, Susan and some kids play "One of These Things" game with a refrigerator, a stove, a dishwasher and a tricycle.

Cartoon
A man gets a letter C in the mail.
(First: Episode 0294)

Film
Traffic light.
(First: Episode 0131)

Cartoon
Once there were two men. Each had his own idea. One man told his thought to the other man, then the other man told his idea to the first man. Now both men knew twice as much.
(First: Episode 0268)

Muppets
Farley explains things one can do with their mind - he plans on going to the door, he imagines who's knocking at it, he remembers it's not his mother and he hopes there's not a scary monster at the door. Herry Monster surprises him by bursting through the door, frightening Farley away. Herry's sorry Farley ran away; he wanted to play.
(First: Episode 0180)

Cartoon
A boy acts out his feelings as animals. ("There's a zoo in me!")
(First: Episode 0783)

Film
Animals and children bathe in water.
Music: Joe Raposo
(First: Episode 0615)

Cartoon
I've Got a Mind: Bird
Artist: Cliff Roberts
(First: Episode 0269)

Cast
David charms a 1 and a 2 out of their baskets to form a 12.
(First: Episode 0504)

Film
Circles in everyday objects.
(First: Episode 0464)

Cartoon
Imagination (Boy Imagines Being Zoo Animals)
(First: Episode 0383)

Muppets
Cookie Monster: Cookie Monster comes to the bakery looking for something delicious that rhymes with BUY. He tries the I (from the MIKE'S BAKERY sign) and the baker's TIE, both of which aren't that delicious. Finally, Guy Smiley comes in and loudly announces that he would like to BUY a PIE. Cookie then knows what he can get in the bakery that rhymes with BUY and is delicious: it's GUY! A chase ensues, and Cookie asks the baker to send him the bill.
(First: Episode 0481)

Cartoon
O limerick
(First: Episode 0146)

SCENE 3
Sully and Biff are unsatisfied with their lunches, and refuse to eat them. Luis convinces them that if they each share what they have, then they'll both have a good lunch.

Cartoon
Speech Balloon: C for cat (impostor)
(First: Episode 0029)

Muppets
Sesame Street News Flash: The Tortoise and the Hare: When the race begins, the hare dawdles, since the tortoise is so slow he'll have time to win. Kermit rushes to the finish line so that he can see the results... and is crowned the winner.
(First: Episode 0477)

Cartoon
An O rolls over and over a horse. The horse eats the O.
Artist: John Paratore
(First: Episode 0173)

Cartoon
Abierto: Ali Baba arrives a bit late and gets run over by the 40 thieves leaving.
(First: Episode 0467)




Cast
David, alone on a desert island, finds a bottle with a genie (Maria) inside it, and wishes for a boat. But Maria keeps mishearing the request and instead gives him a coat and a (live) goat. Finally she gives him a boat ... but it's not the kind of boat he was hoping for.
(First: Episode 0499)

Song
Joe Raposo sings "Everybody Eats."
(First: Episode 0407)

SCENE 4
While carrying cups on a tray, Big Bird mentions several words starting with the letter C, including clever, carry, careful and clumsy. He feels that only the word clever describes him, since the cups are actually glued to the tray.

Cartoon
A bear counts bees (repeat)

Animation
Sand C/c
(First: Episode 0625)

Film
A gemsbok runs fast, then faster.
Music: Joe Raposo
(First: Episode 0416)

SCENE 5
Big Bird continues balancing the cups as Herry announces the sponsors.