Sesame Street
Big Bird worries that Susan and Gordon will forget about him
Air date
January 1, 1976
Season
Season 7 (1975-1976)

Sponsors
D, Y, 3

This episode guide has been compiled from script materials provided by a trusted source.

ⓘ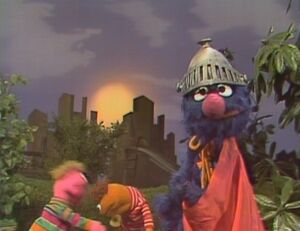 Picture
Segment
Description

SCENE 1
Oscar the Grouch paints a sign in which all the words are pushed together ("GOAWAYLEAVEMEALONE"). Gordon, Susan, Bob and Mr. Hooper each annoy Oscar when they give their opinions about how the sign should look.

Animation
Sand Y/y
(First: Episode 0626)

Muppets
Super Grover tries to stop a fight between Sammy and Frankie, who are fighting over an apple.
(First: Episode 0786)

Cartoon
Donnie Budd sings about three trios of animals who live on a fat lady's lap.
Artist: Bud Luckey
(First: Episode 0299)




Film
Number Three Ball Film: A red ball follows a rollercoaster-like track through checkpoints (each, a set of three) that are counted in voiceover. At the end, the ball turns into a cherry which is devoured by a girl.
(First: Episode 0744)

Muppets
Ernie (playing Robin Hood) auditions Anything Muppets to be his Merry Men. After screening two individuals who don't meet the requirements, Harvey Kneeslapper is sent in laughing. Ernie thinks he's found a merry man and hires him immediately, but following a string of incessant jokes, decides he's too merry after all and fires him.
(First: Episode 0480)

Film
As a boy plays with a tugboat in the bathtub, we watch footage of a real tugboat.
(First: Episode 0801)

SCENE 2
At Hooper's Store, Some kids help Mr. Hooper finish a jigsaw puzzle after he sneezes and mixes up the puzzle.

Cartoon
Y for yawn
(First: Episode 0301)

Celebrity
The Harlem Globetrotters make 15 baskets, but miss on the 16th.
(First: Episode 0712)

Muppets
Cookie Monster presents to Ernie his new device "The Cookie Counter" which will notify him of the quantity of cookies inside the box. Cookie Monster points "The Cookie Counter" rod to the box of cookies, which rings five times representing the amount of cookies inside the box. Ernie is impressed by Cookie Monster's device and talks about the benefits the device provides to the audience, simultaneously Cookie Monster eats Ernie's box of cookies. Ernie tests the Cookie Counter by pointing the rod at the box of cookies, the box doesn't ring. Cookie Monster asks Ernie to face the Cookie Counter rod to his stomach; it rings five times as proof of the location of the five cookies.
(First: Episode 0481)

Cartoon
Magical Herman's number trick
(First: Episode 0773)

Film
Comparing a boy's skin to animals' fur, feathers, skin, and other coverings.
Music: Joe Raposo
(First: Episode 0108)

SCENE 3
Big Bird is going to the post office to buy postage stamps. He passes by Susan and Gordon, who forget to say hello to him. He's afraid that they'll forget all about him in the time it takes to get to the post office.

Cartoon
A postal worker tells the viewer what the post office is good for.
Artist: Cliff Roberts
(First: Episode 0783)

SCENE 3
cont'd
The adults notice a picture of Big Bird that reads "DO YOU REMEMBER THIS BIRD?" as well as several other pictures littered around the street. Bob plays a prerecorded message from Big Bird that makes sure the listener recognizes the voice. When Big Bird returns from the post office, everyone gathers around him and hugs him. "It worked," he remarks.

Muppets
Sesame Street News Flash: Kermit interviews one of the Three Little Pigs, the one who built a straw house. The Big Bad Wolf comes to blow it down, but the house is actually strong.
(First: Episode 0551)

Song
David sings "I'm Pretty" over a film of fish and other sea creatures.
(First: Episode 0389)

Film
"Three Song (Song of Three)."
(First: Episode 0001)

Cartoon
Rumba pencils (first, last, Crazy Melvin)
(First: Episode 0638)

Muppets
Two brothers, First and Last, sing about how their names affect how they do things.
(First: Episode 0134)

Cartoon
A small man and his assistant Dudley attempt to demonstrate both the capital and lower-case letter D.
(First: Episode 0016)

Muppets / Cast
"The People in Your Neighborhood": A butcher and a zookeeper.
(First: Episode 0696)

Cartoon
Speech Balloon: D -- Dog (role reversal between man and dog)
(First: Episode 0016)

Film
Sesame Street Animal Films: Most animals have two eyes, ears, etc. ... but some snakes have two heads.
Music: Joe Raposo
(First: Episode 0287)

Muppets
Muppet & Kid Moment — Kermit, Chris and Stephanie count ears.
(First: Episode 0458)

Cartoon
Three frogs show first, middle and last while hopping over each other.
(First: Episode 0411)

SCENE 4
Gordon and the kids play a "Here Are Some Things" game, sorting teddy bears by size.

Cartoon
The life of a Yellow Yahoo
(First: Episode 0043)

Muppets
Alien Alphabet
(First: Episode 0277)

Cartoon
A man demonstrates Spanish words that start with the letter Y.
(First: Episode 0470)

Film
A magnetic scrapyard baler is used to lift cars into a compacter.
(First: Episode 0024)

Cartoon
A man talks about the word AGUA, which springs many leaks.
(First: Episode 0448)

Cast
In the desert, Luis desperately searches for AGUA, but all the pumps are dry.
(First: Episode 0680)

Cartoon
Vaudeville duo Herman Happy and Stanley Sad sing a song about how they live up to their names.
(First: Episode 0772)

Muppets
Ernie & Bert — Bert is reading a book when Ernie startles him by asking if he wants to play checkers. Bert says, "I thought maybe you weren't here!" Ernie starts to search to see if he can find himself.
(First: Episode 0171)

Cartoon
A yak discusses the letter "Y" on a stage, and is insulted when it is called a "Yakkity-yakkity-yak".
(First: Episode 0301)

Film
"Three Song (Song of Three)." (repeat)

Cartoon
A boy can yell and yodel, and his dog can yelp and yowl. They can both yawn.
(First: Episode 0353)

SCENE 5
The sponsors are announced.