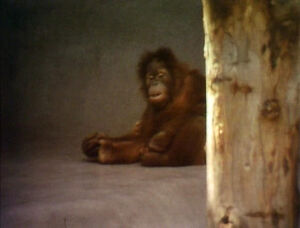 David is on a ladder at Mr. Hooper's store when Big Bird enters. He tells David to be careful while on the ladder, because he's been hurt on a ladder himself.
Cartoon: A bully says the alphabet to a mild-mannered gardener, who hits him in the face with a pie at the end. (EKA: Episode 0300)
Oscar the Grouch has learned not take just any trash -- he'll only accept it if it's really dirty and worn out. He has become interested in recycling.
Mr. Snuffleupagus offers to help Big Bird wrap a present, but Big Bird refuses -- because the present is for Snuffy. It's a mitten for his snuffle.
Film: Some kids observe a woman drawing pictures of a building, and eventually guess that she's an architect.
Animation: A girl explains in poem how she failed trying to make a snowman without using snow.
Cartoon: Panels flip to reveal different ways things WALK.
Community content is available under
CC-BY-SA
unless otherwise noted.