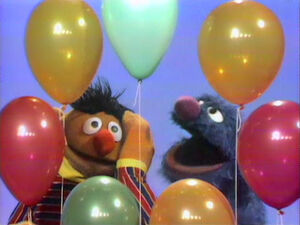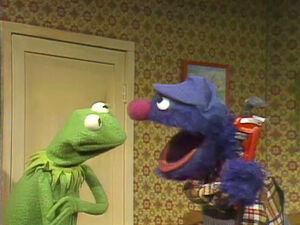 Roosevelt Franklin Elementary School: Roosevelt Franklin's class is feeling bored when he comes in, so he asks them to name some great people. Some of the names shouted out include Martin Luther King Jr., Joe Namath, Jackie Robinson, John F. Kennedy, Ray Charles, and Michael Jackson (Smart Tina says her pediatrician, which gets her funny looks). Roosevelt says those are all great people, but there are two they left out, and one of them is you. You are as great as you want to be and nobody can put you down. After their spirits are lifted, Hardhead Henry Harris asks who the other great person is. Roosevelt Franklin names himself as the class responds in mock derision.
(First: Episode 0515)
Ernie & Bert — Ernie tries to count his balloons. The balloons are arranged in a circle, so he continues counting around the circle, and counts some of them twice. Grover has a solution -- he pops each of the balloons as he counts them. (First: Episode 0133)
Kermit at Home: Grover comes to Kermit's house to fix his sink. Kermit fills him in on a demonstration of "big, bigger and biggest" when it comes to wrenches. Even so, the sink repair goes awry, and the house floods.
Gordon is angry when Big Bird is fifteen minutes late. He apologizes when he finds out that the clock Big Bird was using is broken.
Animation: Ice cream travels around the cone until it reaches the top.
Cartoon: A pirate has his mate dig for treasure, which is buried between two trees. The mate doesn't know what between means. He finally gets the message, but a parrot makes off with the treasure.
Cartoon: I Thought a Thought ... about big things.
Cartoon: A female head is drawn as its voice-over lists its parts, ending with earrings that "do nothing" ... and promptly wiggle around.
Cartoon: "The Fox and the Grapes" - In the classic fable, a famished fox can't reach the grapes, and eventually gives up, assuming they're sour anyway. (EKA: Episode 0796)
Cartoon: The great Alphonso and his trained X's perform a circus routine. (EKA: Episode 0299)
Film: A lumberjack cuts trees.
The Spanish word "AMOR" is formed onscreen, scored by guitar and flute music. (EKA: Episode 0801)
Community content is available under
CC-BY-SA
unless otherwise noted.