Sesame Street
Mr. Hooper accuses Oscar of littering all over the street.
Air date
January 6, 1976
Season
Season 7 (1975-1976)

Sponsors
R, Z, 6

This episode guide has been compiled from materials at the CTW Archives.

ⓘ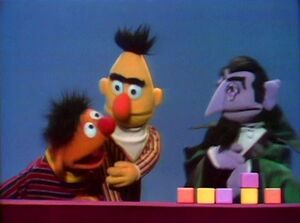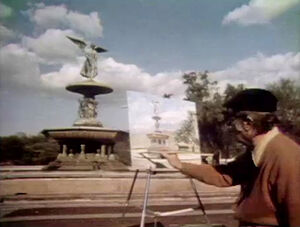 Mr. Hooper accuses Oscar of littering all over Sesame Street, but he later apologizes when Oscar tells him the story of how the Street actually got dirty.
Big Bird doesn't want to play hot potato with a hat, because he always loses.
Big Bird finds out that most of the time grown-ups have something to do, and never enough time to have any fun. He's happy that he's not a grown-up.
Ernie & Bert — Ernie asks Bert to keep an eye on his pyramid of blocks. The Count walks by, and counts the blocks, moving them out of the pyramid shape. Then he counts them again, putting them back into the pyramid. Bert yells at the Count for moving Ernie's blocks, so the Count counts the blocks again, taking the pyramid apart. (First: Episode 0406)
Cartoon: A hand draws a guitarist serenading a maiden, as well as the background.
Film: Antelopes nod "yes."
Cartoon: Simple Simon meets some strange-looking animals, all of whom have their parts switched around.
Cartoon: Five purple konkers disappear one by one, until two of them have a yellow honker together. (EKA: Episode 0812)
Film: Kids draw music instruments on a blackboard. The drawings animated themselves and make their respective sounds.
Cartoon: A man shows the viewers his "YES" machine.
Cartoon: Is snow cold? Yes!
Community content is available under
CC-BY-SA
unless otherwise noted.