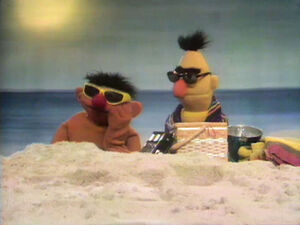 Mr. Hooper is well taken care of at the hospital. A kid in a wheelchair becomes his friend.
Ernie & Bert — Bert and Ernie ask the Kids which music is better -- march or dance music. The kids end up marching off with Bert, while Ernie dances alone. (EKA: Episode 0798)
Susan takes pictures of Mr. Hooper and his friends at the hospital.
Ernie & Bert — Ernie and Bert are watching TV, but Bert gets bored and decides to play a record. Ernie tells him to turn down the volume, but Bert won't, so Ernie drowns out Bert's music by playing the radio. Bert then retaliates by turning on the blender. With all four things running at once, they blow a fuse. Bert goes outside to fix the fuse box, while Ernie turns off all the things that were running. When the lights are back on, they decide to play cards instead of fight. (First: Episode 0003)
Cartoon: Several kids are sad, but become happy when a fruit vendor appears. (Spanish version)
Luis tries to open a door marked with a "CERRADO" sign. He gets a running start, when Maria changes the sign to read "ABIERTO." She opens the door and Luis runs right through it, crashing. (EKA: Episode 0702)
Cartoon: Vaudeville duo Herman Happy and Stanley Sad sing a song about how they live up to their names. (Spanish version)
Cartoon: A man explains that the letter E begins both Enter and Exit. Another man named Roy runs through the doors. (EKA: Episode 0406)
David and the kids build a cardboard house while talking to Mr. Hooper over the phone.
Cartoon: A man (voiced by Casey Kasem) explains the letter R with a radio. Once he starts singing, the radio decides to turn him off by tweaking his nose. (First: Episode 0011)
Cartoon: Monster in the dark (finding a light switch)
Community content is available under
CC-BY-SA
unless otherwise noted.