Sesame Street
Big Bird lets Andy's cat loose
Air date
January 8, 1976
Season
Season 7 (1975-1976)

Sponsors
E, S, 8

This episode guide has been compiled from script materials provided by a trusted source.

ⓘ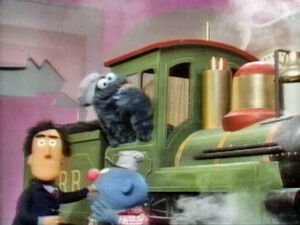 Picture
Segment
Description

SCENE 1
At Hooper's Store, Big Bird asks David for a fried egg sandwich on white bread. David gives it to him, but Big Bird points out that it's square, and he'd rather have them cut into rectangles. David does so, then Big Bird decides he likes triangles better, then circles. Big Bird is then pleased when a frustrated David grinds the sandwiches into "egg salad - my favorite!"

Muppets
Ernie & Bert — Ernie wants Bert to pretend to be mad, but Bert says that he can't, because he has nothing to feel angry about. Ernie asks Bert to pretend that he borrowed Bert's paper clip collection, and lost his favorite paper clip. The thought makes Bert really mad. Bert gets tired out, and tells Ernie that he can't get mad anymore. Ernie makes a confession -- he really did lose Bert's favorite paper clip.
(First: Episode 0216)

Cartoon
"Candy Man"
Artist: Bud Luckey
(First: Episode 0359)

Film
Elephants (African percussion soundtrack)
(First: Episode 0389)

Cartoon
S is for subway, sailboat, sled, scooter, skates, skis, and stop.
Artists: The Hubleys
(First: Episode 0279)

Muppets
"Sammy the Snake"
(First: Episode 0278)

Celebrity
Tennis player Arthur Ashe counts to twelve.
(First: Episode 0750)

Song
"Eight Song (Song of Eight)"
(First: Episode 0016)

Celebrity
Tennis player Arthur Ashe counts to twelve (without voiceover).
(First: Episode 0750)

Muppets
Guy Smiley hosts "Beat the Time". In order to win a cookie, Cookie Monster has to bring in three things that rhyme with the word "rain" before the hand goes around the clock. They turn out to be an old man's "cane", a "chain" (to which Frazzle is attached), and finally a "train" which destroys the set.
(First: Episode 0446)

SCENE 2
Maria asks Big Bird to briefly look after a live cat on a leash. Big Bird doesn't think the cat is happy wearing the collar and leash, so he sets the cat free. The cat immediately runs away, and Big Bird has to act fast to retrieve it.

Cartoon
A baby bird falls from a tree. A boy puts him back, and in return, the mother bird saves the boy from embarrassment.
(First: Episode 0550)

SCENE 2
cont'd
Maria returns with the cat's owner, a kid named Andy. Andy is anxious to see his pet after it's been at the vet for so long, but Big Bird gives him a hat instead, pretending it's a mistake. Big Bird then confesses to letting the cat off the leash, and Maria scolds him angrily. He runs off in tears, and she immediately regrets hurting his feelings. She and Andy go off to find the cat.

Film
Footage of a coral reef, showcasing the plant life and the fish.
Music: Joe Raposo
(First: Episode 0466)

Cartoon
S for sing

SCENE 3
At Hooper's, Maria and Andy tell David what happened. Big Bird shows up and asks David for a big bag of birdseed to pack in a suitcase, because he's moving away after Maria yelled at him. Maria apologizes and, with a song ("I Like You"), reassures him that he is still loved and wanted. Just then, an angry Oscar shows up with the cat, who was eating his fish head collection ("No editorial comments, please!"). Everything is once again in order.

Cartoon
"Mad Goat Song"
Artist: Derek Lamb
(First: Episode 0771)

Muppets
Kermit's Lectures: Kermit talks about hands, with some assistance from a human hand. Kermit counts the hand's fingers and lists off various things it can do. The hand gradually becomes more aggressive with Kermit in demonstrating, but the two eventually make up by shaking hands.
(First: Episode 0342)




Film
"Head To Toe Puzzle": Two kids put together a life size jigsaw puzzle of a human body.
(First: Episode 0024)

Cartoon
Building a dog house is easy if you have a ruler.
(First: Episode 0630)

Muppets
An Anything Muppet brings his broken BUS (the word) to a garage for a mechanic to fix up.
(First: Episode 0455)

Cartoon
The word BUS
(First: Episode 0277)




Muppets
Maria reads "The Boy Who Cried Monster." A terrible, cookie-stealing monster helps to teach a mischievous Anything Muppet boy an important lesson.
(First: Episode 0412)

Cartoon
Superman demonstrates the letter S and some of the words it stands for.
(First: Episode 0136)

Muppets
Muppet & Kid Moment —: Grover and his friend Debo notice the letter "S" sitting on a brick wall. He exclaims that the letter is an old friend, and shouts, "Hey, S, babyyyy!" and slaps it off the wall. He remarks, "I hope he did not take that personally."
(First: Episode 0467)

Cartoon
S is for snow, Santa, and sleigh.
(First: Episode 0134)

Muppets
Muppet & Kid Moment — Kermit talks with Chris about teaching his little sister, Stephanie, to talk. Chris practices the alphabet.
(First: Episode 0495)

SCENE 4
David and the kids play a "Here Are Some Things" classifying abstract shapes by form.

Cartoon
A man saws a letter E through the wall.
(First: Episode 0370)

Film
A girl gets a pair of earrings, intercut with shots of other people's earrings.
(First: Episode 0422)

Cartoon
E for elephant, eagle, everything, and egg.
(First: Episode 0002)

Film
A very busy man is asked by a voice what "forwards" and "backwards" means, but the man doesn't have time to listen. Instead, he is shown what "backwards" means by watching everything around him go in reverse motion!
(First: Episode 0166)

Cartoon
"Candy Man" (repeat)

Film
Sesame Street Animal Films: Kids narrate a film of an African plain and the animals that live there.
(First: Episode 0128)

SCENE 5
The sponsors are announced.