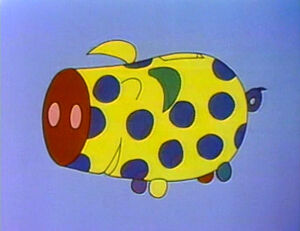 Grover climbs up a lamppost, and points to circles. He shows that wheels, eyes, clocks and frisbees are all circles.
Cartoon: A white furball catches a train going through a door marked EXIT.
Cartoon: "Danny knows the alphabet, and is he proud! If you can follow him, then sing out loud!" (EKA: Episode 0406)
Cartoon: A mother bird brings her babies a huge number 12. (EKA: Episode 0720)
Cartoon: A square is fit into many different things, such as a truck, window, television, etc.
Cartoon: Psychedelic numbers count from 10 to 1, then back to 10.