Sesame Street
A flamingo flies north to visit Sesame Street.
Air date
January 19, 1976
Season
Season 7 (1975-1976)

Sponsors
K, Q, 4

This episode guide has been compiled from materials at the CTW Archives.

ⓘ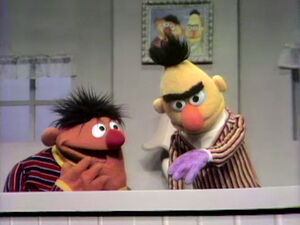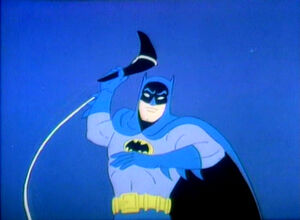 Ernie & Bert — Bert can't go on a trip with Ernie because his hand has purple paint on it. Ernie puts a mitten on Bert's hand to cover it, but Bert still won't go because he looks silly wearing one mitten. So Ernie completes the outfit with another mitten, a hat, a scarf, and a sled. Ernie then reveals that they are going to the beach. (First: Episode 0386)
The Count classifies icicles by size, and then counts them.
Ernie & Bert — Ernie says that he has "flying fingers", and tries to find ten different things that his fingers can do. (EKA: Episode 0676)
Simon Soundman comes to the Fix-It Shop for the things he'd left to be repaired. Instead of asking for the objects by name, he identifies them by making the sound they make.
Cartoon: A boy talks about his various moods.
Film: A bulldozer moves dirt up a construction site.
Cartoon: "K" - Kangaroo. A man (voiced by Gary Owens) explains what a kangaroo is, and ends up in the pouch of one. (EKA: Episode 0142)
Cartoon: A man weighs five pounds of bubble gum. He chews it all, blows a huge bubble, and flies away. (EKA: Episode 0814)
Cartoon: Ralph asks Marvin what would happen if he didn't have a mouth, a nose, and ears. (First: Episode 0468)
Community content is available under
CC-BY-SA
unless otherwise noted.