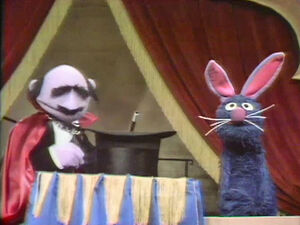 Oscar the Grouch thinks that hopscotch is a great game. He joins in by dumping a bucket of rocks on the hopscotch grid.
Grover watches the Amazing Mumford practice a trick, making a rabbit come out of his hat. Mumford has trouble getting a rabbit to come out of the hat, and both are oblivious to the fact that Grover is slowly, but surely, turning into a rabbit. (EKA: Episode 0712)
Cartoon: A girl imagines herself as a car that rescues fire victims. (EKA: Episode 0598)
"AM" and "OR" join together to form the word "AMOR."
Film (stop-motion): 'Beginning - end' is demonstrated by kids waiting in line at the movie theater.
Cartoon: A man invites an M to dinner. The M is very appreciative, and makes "Mmmmmm" sounds. It eats all of the food at the table, and winds up eating the screen! (EKA: Episode 0276)
Animation: The parts of an elephant puzzle are put together.
Big Bird reads a poem about fish to the kids.