Sesame Street
Plot
Mr. Macintosh doesn't like working near the hot dog man
Air date
February 11, 1976
Season
Season 7 (1975-1976)
Sponsors
G, I, 10

This episode guide has been compiled from materials provided by a trusted source.

ⓘ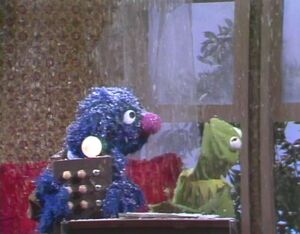 Picture
Segment
Description

SCENE 1
Mr. Macintosh, the fruit vendor, and Willy the hot dog man don't like to work close to each other, so they set up their stands on opposite sides of the street. Susan asks Mr. Macintosh for an apple cut in half, but he needs a knife, which Willy has. Bob asks Willy for two pounds of hot dogs, but Willy needs a scale, which Mr. Macintosh has. Mr. Macintosh and Willy soon work out a compromise.

Cartoon
Letter G drawing with kid voice-over
(EKA: Episode 0514)

Muppets
Guy Smiley hosts "Beat the Time". In order to win a cookie, Cookie Monster has to bring in three things that rhyme with the word "rain" before the hand goes around the clock. They turn out to be an old man's "cane", a "chain" (to which Frazzle is attached), and finally a "train" which destroys the set.
(First: Episode 0446)

Film
Ink blot #1 (0:29)
Cartoon
G is for Glue
Artists: The Hubleys
(EKA: Episode 0279)

Cast
Maria uses her imagination.
(First: Episode 0558)

Film
Wind-up man (GO) (1:17)

Video
Scanimate kids intro
(First: Episode 0798)

Insert
A group of disabled children play with a feather.
(First: Episode 0813)

Film
The Mad Painter #10
(EKA: Episode 0350)

Muppets
Ernie & Bert — Ernie stacks cups and saucers in order to count them, making Bert quite nervous. Luckily, they're glued together.
(First: Episode 0586)

Cartoon
A girl lying in bed imagines seeing cracks in the wall turning into animals and a monster.
(EKA: Episode 0818)

Cartoon
G For Giggle (voice of Allen Swift)
(EKA: Episode 0305)

Muppets
Grover and George sing "Two G Sounds".
(First: Episode 0358)

Cartoon
G for Gorilla (in man suit)
(First: Episode 0085)

SCENE 2
Oscar the Grouch minds his friend Melvin Meany's plants while Melvin is away. To Oscar, all the plants look like Grouch plants, except for one that looks green and leafy. That one turns out to be poison ivy.

Muppets
Ernie & Bert — Bert tells Ernie that if he can clean the messy apartment in fifteen seconds or less, he will give Ernie his dessert, ice cream and cookies.
(First: Episode 0033)

Film
A gibbon swings, and an audience cheers when the film ends.
Music: Joe Raposo
(First: Episode 0009)

Cartoon
Capital I, he's quite a guy
(EKA: Episode 0815)

Film
City alphabet (Joe Raposo instrumental with kid voiceover)
(First: Episode 0132)

Muppets
Kermit at Home: Salesmonster Grover comes to Kermit's home to sell him weather. As part of his pitch, he demonstrates a machine that makes it snow, makes it windy, and then makes it rain in Kermit's living room.

Cartoon
The Typewriter: I for Ink
Artist: Jeff Hale
(EKA: Episode 0847)

Cartoon
Various renderings of the word DANGER.
Artists: The Hubleys
(First: Episode 0151)
Muppets
Little Jerry and the Monotones sing "Danger."
(First: Episode 0704)
Song
Joe Raposo sings "Take A Breath."
(EKA: Episode 0347)

SCENE 3
In a spoof of the J. Arthur Rank logo, Bob demonstrates "G" for "gong" — but when he strikes the gong, only a tiny ding emanates.

Animation
Sand G / g
(First: Episode 0643)

SCENE 4
Mr. Hooper shows "G" for "grocer", and Susan shows "G" for "goldfish".

Muppets
Sherlock Hemlock tries to figure out why there is a mess outside. He speculates that the Twiddlebugs made a mess after a Twiddlebug dance.
(First: Episode 0178)

Cartoon
Number count to 20 (w/ cameo appearance by Cookie Monster), followed by cast list at the end.

Film
A girl shops for a pair of earrings.
(EKA: Episode 0802)

Cast
Surgeons Maria, David, Susan and Luis "operate" on a motorcycle.
(First: Episode 0484)

Muppets
Ernie & Bert — Ernie pretends to be a dog and a duck. Bert then pretends to be a train, and does it so well that a train conductor and passengers come through the apartment.
(First: Episode 0645)

Cartoon
A goat discusses the letter "G". A man comes by to also talk about G, but rather than point out that "goat" is a G word, he observes the grass. Disgusted, the goat butts the man out of the way.
(First: Episode 0085)

Film
Geese and their goslings swim in the water.
(EKA: Episode 0818)

Cartoon
G For Giggle (voice of Allen Swift) (repeat)
(EKA: Episode 0305)

Muppets
Roosevelt Franklin Elementary School: Roosevelt Franklin, in a somber tone, tells his class to spell the word POISON and recognize what it means.
(First: Episode 0514)

SCENE 5
Big Bird shows Mr. Hooper what he and the kids just learned how to do: count to 10 fast and slow. They do it fast first, then do it slow, taking a long pause after 1 …

Cartoon
A man weighs five pounds of bubble gum. He chews it all, blows a huge bubble, and flies away.
(First: Episode 0617)

Cartoon
Capital I, he's quite a guy (repeat)
(EKA: Episode 0815)

SCENE 6
After the long pause, Big Bird and the kids reach the number 2. Mr. Hooper needs to close the store and go home.
Community content is available under
CC-BY-SA
unless otherwise noted.