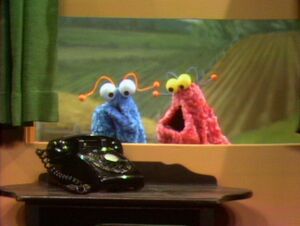 Ernie and Bert: Ernie wants to have some cookies. Bert asks Ernie if he knows what "before" means, and Ernie demonstrates by saying that before he can have a cookie, he has to open the lid to a cookie jar, and after he closes the lid, he eats the cookie. He demonstrates a few times, until he loses his appetite for dinner. (First: Episode 0007)
Sam the Machine does not respond to Bob's request to stop talking. Sam claims he has been programmed to answer all questions completely.
Big Bird writes a poem about a friend of his, but he forgot who the poem is about. He ends up writing about Mr. Snuffleupagus.