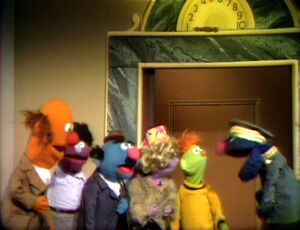 Waldo Woodpecker visits Big Bird from the forest. Big Bird doesn't hear Waldo knocking on the door because the noise from his vacuum cleaner is too loud.
Waldo and Big Bird discover that life in the forest and life in the city are very different. When Waldo leaves, Big Bird tries to give him a goodbye present -- but Waldo says that he wouldn't have any use for an alarm clock or an umbrella in the forest. He accepts a wooden box.
Film: Kids paint various animals that begin with "P" on a window. (First: Episode 0119)
"Triangle and Square": A male voice narrates a story of a jazzy triangle who loved to dance, and a square square. The triangle likes being flexible, but the square would rather be stiff and *square*. (First: Episode 0007)
George the Farmer hits a hammer with a nail to demonstrate "quiet", and hits a post with a sledgehammer to demonstrate "noisy".
Film: Several people help a man when his car is stuck in the mud.