Sesame Street
Mr. Hooper loses his glasses, finds Mr. Snuffleupagus
(repeat of 0628)
Air date
February 25, 1976
Season
Season 7 (1975-1976)

Sponsors
A, B, 6

This episode guide has been compiled from materials at the CTW Archives.

ⓘ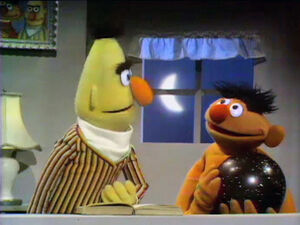 Maria, Mr. Hooper, Big Bird and the Kids gather things that rhyme with "AT".
Cartoon: A picture of a girl playing a guitar is drawn as off-screen kids (speaking English and Spanish) try to guess what the drawing will be. (First: Episode 0406)
Ernie & Bert — Ernie brings an umbrella, a flashlight, and Bert's bowling ball to the bathtub, just in case the electricity goes out, the roof leaks, and somebody shows up asking to borrow a bowling ball. Bert thinks that Ernie is being ridiculous -- but everything happens, just as Ernie predicted. (First: Episode 0269)
Cookie Monster: Cookie Monster comes to the bakery looking for something delicious that rhymes with BUY. He tries the I (from the MIKE'S BAKERY sign) and the baker's TIE, both of which aren't that delicious. Finally, Guy Smiley comes in and loudly announces that he would like to BUY a PIE. Cookie then knows what he can get in the bakery that rhymes with BUY and is delicious: it's GUY! A chase ensues, and Cookie requests for the baker to send him the bill. (First: Episode 0481)
Cartoon: An orchestra conductor asks "May I have an A, please?" at which point a giant letter A falls from the sky. (First: Episode 0770)
Cartoon: A monster sees a box that keeps opening and closing, saying "Abierto" and "Cerrado" (First: Episode 0771)
A man shows forward and backward with large sneakers. He ends up walking away with them on backward. (EKA: Episode 0826)
Film: A girl narrates a film of her grandpa putting a horseshoe on their horse. (EKA: Episode 0679)
Community content is available under
CC-BY-SA
unless otherwise noted.