Sesame Street
Plot
All the lights on Sesame Street go off.
Air date
February 26, 1976
Season
Season 7 (1975-1976)
Sponsors
C, Y, 8

This episode guide has been compiled from materials at the CTW Archives.

ⓘ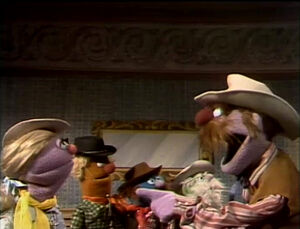 All the lights on Sesame Street go off. The blackout is blamed on a problem at the electric company.
Old West sketches: Bad Bart is looking for Marshal Earp to give her a big surprise. The terrified townspeople try to warn Marshal Earp -- but Bad Bart explains that a surprise is something that someone doesn't expect. He orders them not to say a word. It turns out the big surprise is a cake for Marshal Earp's birthday. (First: Episode 0537)
Film: A woman screams "NO!" as she's chased by a gorilla through the park. She stands up to him and drags him through the park by his legs; now he's the one screaming "NO!"
Cartoon: A 5 legs stick out of a barrel, belonging to a five-legged woman.
Film: An Hispanic boy gets up, gets dressed, and goes to school as Spanish music plays (A la luna no voy yo). (EKA: Episode 0829)
Film (stop-motion): 'Beginning - end' is demonstrated by kids waiting in line at the movie theater. (EKA: Episode 0841)
Film: "Head to Toe Puzzle": Two kids put together a puzzle of a boy. (First: Episode 0024)