Sesame Street
Big Bird tries to remember how to pronounce Mr. Hooper's name
(repeat of 0623)
Air date
March 3, 1976
Season
Season 7 (1975-1976)

Sponsors
Q, S, 12

This episode guide has been compiled from script materials provided by a trusted source.

ⓘ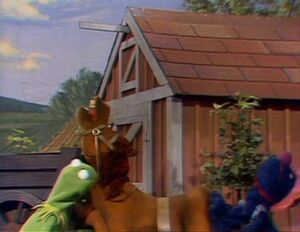 Picture
Segment
Description

SCENE 1
Mr. Hooper tries to teach Big Bird how to pronounce his name right. He reads the "Hooper" art card, then asks for a bag of chocolate birdseed, and thanks "Mr. Cooper".

Cartoon
"Poverty Q": A figure demonstrates Q words, despite the unruly stem of his letter Q that keeps detaching itself.
(First: Episode 0048)

Muppets
Muppet & Kid Moment — Kermit asks Trey if he's seen a letter Q before. At first Trey denies it, but eventually draws one in the air with his finger.
(First: Episode 0440)

SCENE 1
cont'd
Mr. Hooper gives Big Bird a hula hoop, because "hoop" is the first part of "Hooper". Big Bird remembers to call him "Hooper" while he's holding the hoop, but when the phone rings, he gives it to "Mr. Telephone".

Cartoon
Miss Fortune makes guesses about a dog.
Artist: Cliff Roberts
(First: Episode 0483)

SCENE 1
cont'd
Mr. Hooper refuses to answer to Big Bird unless he gets the name right. He makes multiple guesses, then remembers when he sees a kid with a hula hoop. He came to tell Mr. Hooper that he left the water running in the sink at the store.

Cartoon
"Ladybugs' Picnic"
(First: Episode 0416)

Muppets
Ernie & Bert — Bert notices that Ernie has a piece of string tied on his finger. Ernie says that the string tied on this finger helps to remind him that there's a piece of string tied on this finger. And so on. The string on the last finger is there to remind him that they're out of string.
(First: Episode 0163)

Video
Scanimate kids intro
(First: Episode 0798)

Cast
Some kids play a game of hopscotch, where they count the squares as the jumper hops through them.

Film
Two kids help an old Chinese man get his dragon kite in the air.
(First: Episode 0444)

Muppets
Two Anything Muppets with hair over their eyes recite the alphabet.
(First: Episode 0779)

Cartoon
"One to Five Counting Animals Song"
(First: Episode 0780)

Film
Empty / full playground (time-lapse)
(First: Episode 0415)

Cartoon
A boy looks for the telephone as it rings.
(First: Episode 0684)

Muppets
Little Jerry and the Monotones sing "Telephone Rock."
(First: Episode 0733)

Cartoon
A boy gets lost, and encounters a man with a yo-yo, who tells him to remember everything he passed.
Artist: Jeff Hale
(First: Episode 0408)




Film
Two glasses are filled with fluid, but one glass overflows as a hand keeps pouring into it. The same thing happens using salt shakers and bowls of nuts. Finally, the glasses are filled again, only one glass barely fills up as fluid is poured into it. The camera pulls out, revealing the glass is filling into another one below, which overflows as before.
(First: Episode 0576)

SCENE 2
Luis plays a Spanish "Here Are Some Things" game with rectangles.

Cartoon
Jasper and Julius: Apple.
(First: Episode 0485)

Muppets
Kermit, Farmer Grover and a horse show how a horse and cart works.
(First: Episode 0590)

Cartoon
What kind of print does a hand make?
(First: Episode 0776)

Film
Sesame Street Animal Films: Footage of a rattlesnake
(First: Episode 0294)

Animation
Sand Q/q
(First: Episode 0623)

Cast
In speed-induced footage, Maria, Luis and David put together a letter Q.
(First: Episode 0467)

Cartoon
Subtracting three mules
(First: Episode 0767)

Film
Empty / full subway car (time-lapse)
(First: Episode 0415)

Cartoon
A supermarket worker stacks 12 cans, which keep collapsing every time someone grabs one.
(First: Episode 0782)

Muppets
Three witches attempt their own individual spells, which don't work out to their liking. They decide to cooperate by bringing all of their ingredients together, thus making chicken soup.
(First: Episode 0407)

Cartoon
Speech Balloon: S - Snake: A snake charmer irritates the snake.
(First: Episode 0063)

Muppets / Cast
Bob sings "The People in Your Neighborhood" with the oil man and street cleaner.
(First: Episode 0817)

Film
Elephants (African percussion soundtrack)
(First: Episode 0389)

Cartoon
S is for subway, sailboat, sled, scooter, skates, skis, and stop.
Artists: The Hubleys
(First: Episode 0279)

Film
Five bugs are counted, until one bug engulfs the other four.
Artist: Etienne Delessert
(First: Episode 0628)

Muppets
Grover the Assistant: Grover volunteers to assist the Amazing Mumford in his suspension act. Grover will get on top of a platform, and Mumford will pull the pillar off from underneath, and the platform will not fall. The trick works, so Grover decides to try it himself, with Herry Monster as his assistant. Grover can't pull it off, and Herry falls.
(First: Episode 0292)

Cartoon
A mouse tries looking for his pet, describing to his friend what they did yesterday.
(First: Episode 0782)

Cartoon
Q-quiet! (tree chopping)
(First: Episode 0675)

Cast
The cast sings "What's the Name of That Song?"
(First: Episode 0666)

Cartoon
The Typewriter: "Q", Quiet
(First: Episode 0768)

Muppets
Sesame Street News Flash: Kermit interviews Christopher Columbus before he begins his voyage to discover America. Kermit tries to tell him that the third ship is tied to the dock, but it's too late -- the dock breaks free, and takes Kermit along with the ship.
(First: Episode 0578)

Cartoon
Three characters try to watch a baseball game over a fence, then cooperate by stacking their blocks.
(First: Episode 0478)

Cartoon
"Ladybugs' Picnic" (repeat)

Cartoon
Three chickens eat grain, and become full, fuller and fullest.
Artist: Cliff Roberts
(First: Episode 0506)

SCENE 3
The sponsors are announced.