Sesame Street
Big Bird is proud of riding a unicycle / Oscar sabotages David's date
(repeat of 0660)
Air date
March 5, 1976
Season
Season 7 (1975-1976)

Directed by
Jon Stone
Sponsors
N, P, 5

This episode guide has been compiled from script materials provided by a trusted source.

ⓘ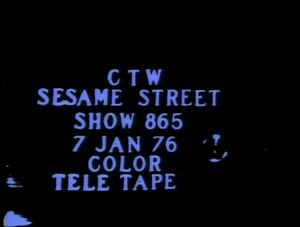 Picture
Segment
Description

SCENE 1
David and Maria explain to Big Bird what being proud means. David is proud of having just shot nineteen baskets in the arbor, while Maria is proud of being able to speak both English and Spanish. Big Bird understands now, but he's upset because he can't think of anything he's proud of.

Song
"1-2-3-4-5!"
(First: Episode 0144)

SCENE 2
Big Bird tells the viewer he has nothing to be proud of before riding his unicycle out of his nest and out onto Sesame Street. Everyone he passes by is super impressed by this feat. David asks if it took him a long time to learn, and explains that not many people can ride a unicycle. Big Bird realizes he has something to be proud of and rides his unicycle away. Off-screen, he crashes, and admits to getting a little too proud for a moment.

Muppets
Snow White accidentally visits the cottage of the six dwarves.
(First: Episode 0279)

Cartoon
Three frogs show first, middle and last while hopping over each other.
(First: Episode 0411)

Film
Kids narrate a tortilla contest in English and Spanish.
(First: Episode 0456)

Muppets
The Anything Muppets sing "P Is My Favorite Letter".
(First: Episode 0322)

Film
Kids paint P-word animals on glass.
(First: Episode 0119)

Film
A boy paints a picture of a porcupine on glass.
(First: Episode 0064)

Muppets
Muppet & Kid Moment — Bert tells John-John that he's lost his paper clips, and he feels sad. He asks John-John to show how he looks when he feels sad. Then Bert feels angry about losing his paper clips, and John-John acts out that emotion. Bert remembers where he left his collection, and John-John acts happy, too.
(First: Episode 0443)

Cartoon
A female head is drawn as its voice-over lists its parts, ending with earrings that "do nothing" ... and promptly wiggle around.
Artist: James Rizzi
(First: Episode 0821)

SCENE 3
Big Bird uses a puppet to illustrate the letter P.

Cartoon
P is for Pillow
(First: Episode 0374)

Film
A bumble bee
Music: Joe Raposo
(First: Episode 0082)

Muppets
Visual Thinking: A hipster and a square imagine shapes.
(First: Episode 0361)

Animation
Slide puzzle - elephant
(First: Episode 0389)

Film
The Mad Painter #5
(First: Episode 0345)

Muppets
The Twiddlebugs get a new postage stamp portrait of George Washington, but have trouble getting it to stick to the wall. They finally get it to work, but it is upside down.
(First: Episode 0776)

Film
A woman holds a painting of five chickens.
(First: Episode 0769)

SCENE 4
Biff and Maria play "One of These Things" with dump trucks.

Film
An ice cream man hands a boy too many cones. The boy cries out for "HELP" and some kids eat the extras.
(First: Episode 0484)

Muppets
Ernie & Bert — Ernie tries to put a pot on Bert's head. Bert asks Ernie why he's doing that, and Ernie says that he broke a cookie jar. Ernie has to put the cookies somewhere, so he put them in the sugar bowl – and put the sugar in the flowerpot, which meant that he had to put the flower in a milk bottle. He put the milk in the soda bottle, the soda into the fishbowl, and the fish in Bert's cowboy hat. Bert asks, "Now what am I going to wear when I want to play cowboy?" Ernie puts the pot on Bert's head and says, "Ride 'em, cowboy, Bert!"
(First: Episode 0305)

Cartoon
The Typewriter: P for Pencil
(First: Episode 0782)

Film
A little girl needs HELP getting on a horse.
(First: Episode 0484)

Muppets
The Count sings "The Song of the Count."
(First: Episode 0469)

Cartoon / Film
A cartoon man climbs a live-action boy.
(First: Episode 0494)

Cartoon
A man nearly falls down a chasm, but the word HELP saves him and helps him across.
(First: Episode 0788)

Cast
David the champion is ready for the match, but assistant Luis gives him the wrong match for his boxing glove. Once the right one is placed, he and Gordon face off in a game of marbles.
(First: Episode 0686)

Cartoon
Speech Balloon: N - Nail
(First: Episode 0040)

Muppets
Grover attempts to sell a weather machine to Kermit the Frog.
(First: Episode 0848)

Cartoon
An N-terview with an N
(First: Episode 0131)

SCENE 5
David tells Oscar that he's leaving Hooper's Store early to take Maria out on a date. Oscar hassles him about Maria being late to their last few dates and convinces David that she's probably already been to the movie he's taking her to. Maria shows up on time, but Oscar has David so worked up that he tells her he wouldn't go on a date with her if she was the last woman on earth. After he leaves, Oscar trash-talks David and asks Maria to go to the movies.

Film
"It's an Otter!"
Music: Joe Raposo
(First: Episode 0284)

Cartoon
After the big game, a bird skeleton and an elephant skeleton get their skins mixed up in the locker room. The coach helps them out.
(First: Episode 0774)

Song
Marilyn Sokol sings "Pockets" over a montage of different types of pockets.
(First: Episode 0764)

Song
"1-2-3-4-5!" (repeat)

Muppets
Two brothers, First and Last, sing about how their names affect how they do things.
(First: Episode 0134)

Cartoon
Beetle Bailey wants to be first in the chow line, but he ends up last.
(First: Episode 0666)

Cartoon
P is for Pillow (repeat)

Film
Kids watch as construction workers paint a number 5 on the street using a stencil.
(First: Episode 0497)

Cartoon
Dot Bridge #12: Square remains in corner, and third dot changes color
(First: Episode 0296)

SCENE 6
After David locks up Hooper's Store, he apologizes for letting Oscar get him all worked up. As they pass Oscar's trash can, Maria opens the lid and sprays some perfume. Biff announces the sponsors and the credits roll.