Sesame Street
Plot
The Count wants to count everybody in the world.
Air date
March 9, 1976
Season
Season 7 (1975-1976)
Sponsors
H, V, 7

This episode guide has been compiled from materials at the CTW Archives.

ⓘ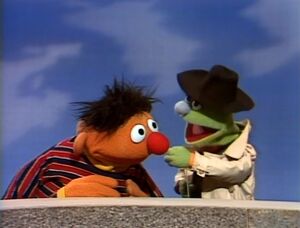 David uses a tape measure to measure a puppy. Oscar the Grouch claims that he dogsits for a friend whose puppy's tail measures fifteen feet four inches long.
Herry Monster wants to play in a band, but Bob finds that Herry is too strong to handle any musical instrument safely. Bob suggests that Herry conduct the band instead.
Cartoon: Building a dog house is easy if you have a ruler. (EKA: Episode 0824)
Cartoon: A witch turns a little girl into a variety of things, but the girl insists "I'm still ME!"
Song: "Riding on a Train"
Cartoon: A girl and her dog show here and there.
Film: African kids play at various activities, including a game with stones. (EKA: Episode 0181)
Song: "Watch the Dance": A singer points out the body parts of a dancer. (EKA: Episode 0752)