Sesame Street
Mr. Hooper goes to night school to learn Spanish.
Air date
March 10, 1976
Season
Season 7 (1975-1976)

Sponsors
N, V, 8

This episode guide has been compiled from materials at the CTW Archives.

ⓘ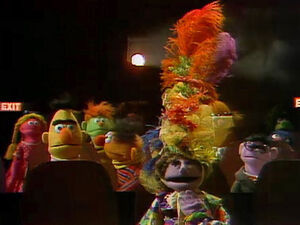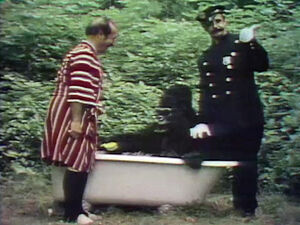 On a very slow day of counting, The Count plays some funky music that is irresistible to dance to. He then counts 6 dancing children that come by.
A child finds out that Mr. Hooper is attending night school to learn Spanish. His homework includes learning how to say "Yo quiero un beso". ("I want a kiss.")
Film: Milk (A film of cows being milked and then a man driving a milk truck must hurry and get milk to a fussy baby that wants her bottle)
The kids pin parts of the body to an outline of Ernie's torso.
Animation: Different shapes appear inside a circle, until it rounds itself out.
Cartoon: A tiny ant pushes the huge N into its place in the alphabet. (First: Episode 0780)
Buffy sorts by function using some clothes and an apple.
Cartoon: Two groups of mountain goats try to pass each other on a mountain road. (First: Episode 0780)
Film: In stop-motion, assorted pieces of furniture place themselves in a classroom.
Animation: Puzzle parts form a picture of Maria.
Community content is available under
CC-BY-SA
unless otherwise noted.