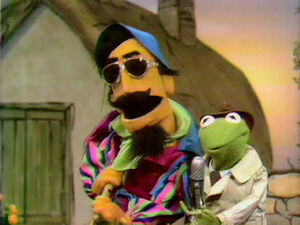 Picture
Segment
Description

SCENE 1
Luis brings David some fresh baked oatmeal cookies. He thinks they're the best, but David has him try one of the vanilla cookies he made in the store this morning. They argue over whose cookies are the best, when Cookie Monster interjects: he offers to hold a cookie contest with himself as the judge. Maria and Big Bird overhear this and also decides to enter with their own cookies.

Film
A conductor yells "STOP" to his off-key violinist trying to play Vittorio Monti's "Czardas".
(First: Episode 0516)

SCENE 2
The Sesame Street Bake-Off commences in the arbor. After tasting all the cookies, Cookie Monster declares a draw, since all cookies taste good. He gives Big Bird a special ribbon for "best plate", which he also eats.

Muppets
Ernie & Bert — Bert says it's Ernie's turn to go to the laundromat. He puts numerous things in the laundry basket, including storybooks, cookies, his boots, and a radio. Before long, the basket has no room for the laundry, so he decides to go play baseball instead.
(First: Episode 0458)

Cartoon
A boy talks about his pet letter Y, named Yetta.
(First: Episode 0443)

Cartoon
Y for yawn
(First: Episode 0301)

Film
Kids narrate a film about water in hoses, fountains, puddles, streams, bathtubs, rivers, oceans, and other places.
(First: Episode 0135)

Cartoon
A girl uses her paint-by-the-numbers set to find an elephant in her picture.
(First: Episode 0510)

Muppets
Roosevelt Franklin Elementary School: Using pictures on the blackboard, Roosevelt Franklin tells the class a story about two little dogs who find a big ol' bone in a doghouse. They try to take the bone, but it turns out that it belongs to a big, mean dog, who chases them away. The moral of the story: "If something's not yours, leave it alone; could be a big ol' dog in the doghouse."
(First: Episode 0529)

Cartoon
Words that rhyme with BALL (voices of Bob Arbogast and Daws Butler)
(First: Episode 0773)

Cartoon
A boy can yell and yodel, and his dog can yelp and yowl. They can both yawn.
(First: Episode 0353)

SCENE 3
Luis and some kids play a "Here Are Some Things" game, classifying triangles by size.

Muppets
Sesame Street News Flash: The Pied Piper has trouble luring mice with his music, but Kermit the Frog lures them by whistling.
(First: Episode 0519)

Cartoon
A janitor sweeps up his own footprints the wrong way, then the right way. Just then, a giant centipede leaves tracks all over the floor.
Music: Joe Raposo
(First: Episode 0247)

Film
A little horse gets near and far from the camera.
(First: Episode 0279)

Insert
Scanimate Films #10
(First: Episode 0134)

Cartoon
A red man tries to get apples from a tree by himself, while a yellow man builds a ladder.
(First: Episode 0779)

Celebrity
Clive Thompson and Tina of the Alvin Ailey Dance Theater dance to a blues number.
(First: Episode 0851)

Cartoon
A minstrel sings about a fox who outsmarts a crow.
Artist: Etienne Delessert
(First: Episode 0631)

Film
Several people help a man when his car is stuck in the mud.
(First: Episode 0619)

Muppets
Grover demonstrates near and far.
(First: Episode 0787)

Film
Sesame Street Animal Films: Baby animals are fed milk.
(First: Episode 0238)

Cartoon
U for uniform.
(First: Episode 0702)

Cartoon
Speech Balloon: U for Umbrella
(First: Episode 0038)

SCENE 4
At Hooper's, everybody has to pay two cookies to hear the Cookie Monster Alphabet.

Muppets
As ominous music plays, the Count walks around his castle, checks out the mirror (he has no reflection), and greets his bats. The mailman (Jim Henson) arrives, with a bunch of letters for Count. The mailman wonders why there are so many letters. The Count says that he wrote them all himself, so he could count them... and then he does.
(First: Episode 0420)

Film
The Mad Painter #10
(First: Episode 0328)

Muppets
Five Anything Muppets sing the "Numerical Correspondence Song."
(First: Episode 0735)

SCENE 5
As Grover asks "Why?", Big Bird and the kids watch Alphabet Bates make a Y in the sky.

Muppets
Some Muppet kids (including Farley) plan to decorate their clubhouse, but each one is only able to find one item. They are upset at their individual failures, until they see what a difference each item makes when they're all hung up.
(First: Episode 0280)

Cartoon
The Typewriter: Y for Yo-Yo
(First: Episode 0769)

SCENE 6
Big Bird and Cookie Monster open a business called The High and Low Company. Big Bird finds things up high (like an XJ27 condenser for Luis at the Fix-it Shop), and Cookie Monster finds anything down low (like Susan's lost bus token). When David looks for his key, he points them to the counter, which is too low for Big Bird, but too high for Cookie, so they have David join "the firm" as a new "in-between" specialist.




Muppets
Ernie & Bert — Bert says that he and Ernie are looking at the "Mysterious Nose-Snatcher." Ernie, disagreeing, walks closer and closer to the camera to see. His face begins to black out the screen...but when he moves back into view, his nose is missing!
(First: Episode 0005)

SCENE 6
cont'd
David finally finds his key. The sponsors are announced and the credits roll.