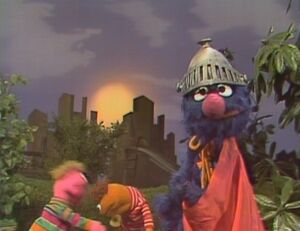 Picture
Segment
Description

SCENE 1
Big Bird wakes up in the morning. He tells us that Mr. Snuffleupagus slept over at his nest, but now he seems to be missing, along with the blanket he slept with. Some kids point Big Bird to two objects covered with tarp, one of which is slowly moving up and down, and has furry feet … it's Snuffy! The other one is Gordon's car, which he covered because he wants to keep it shiny and clean. Gordon gets in the car on his way to work, and thus misses seeing Snuffy, who wakes up after Gordon leaves.

Cartoon
A construction worker explains the uses of a folding ruler.
(First: Episode 0572)

Muppets
The Twiddlebugs try to figure out how to get to the zoo. They notice it's too far to walk, swim, or fly. Then they notice their Twiddle-car. (short intro)
(First: Episode 0603)

Cartoon
"Jazz #3"
(First: Episode 0002)

Film
The Mad Painter #3
(First: Episode 0343)

Muppets
Kermit the Frog, Smart Person, helps Max Ferbilfeemer (Luis) learn the difference between happy and scared.
(First: Episode 0704)

Animation
Sand S/s
(First: Episode 0622)

Cartoon
S is for subway, sailboat, sled, scooter, skates, skis, and stop.
Artists: The Hubleys
(First: Episode 0279)

Film
Traffic light.
(First: Episode 0131)

Muppets
Super Grover tries to stop a fight between Sammy and Frankie, who are fighting over an apple.
(First: Episode 0786)

Cartoon
One of these shoe pairs ...
(First: Episode 0503)

Cast
David and Maria demonstrate "on" and "under" in the arbor. David goes to get some sandwiches, leaving Maria floating in the air.
(First: Episode 0557)

Cartoon
A sprightly seal tells the story of six silly sailors who split up on a see-saw.
Artist: Tee Collins
(First: Episode 0002)

Muppets
Kermit's Lectures: To demonstrate "through", Kermit tries to get Cookie Monster to run through a piece of tissue paper. Instead, Cookie offers other alternatives, ultimately choosing to go around it. He helps Kermit with his demonstration by passing the tissue paper through Kermit.
(First: Episode 0289)

Film
Sesame Street Animal Films: Three dolphins jump together.
(First: Episode 0222)

Muppets
Ernie & Bert — Ernie is painting a portrait of Bert, but paints Bert with curly hair, glasses and a beard. When Bert gets angry about this, Ernie takes him behind the easel and puts curly hair, glasses and a beard on Bert.
(First: Episode 0365)

Film
Marching Band #3
(First: Episode 0517)

SCENE 2
Sam the Robot encounters Gordon trying to fix his car engine. Sam says the engine has a name – "Ramona" – and talks to the engine as it sputters in response. Gordon doesn't think cars have feelings, but Sam's pep talk gets "Ramona" working again!

Cartoon
A voice asks a face if it's aware of the letter S, and it is revealed that the face belongs to a snake.
Artists: The Hubleys
(First: Episode 0278)

Muppets
Muppet & Kid Moment —: Grover and his friend Debo notice the letter "S" sitting on a brick wall. He exclaims that the letter is an old friend, and shouts, "Hey, S, babyyyy!" and slaps it off the wall. He remarks, "I hope he did not take that personally."
(First: Episode 0467)

Cartoon
A bee looks for a flower.
Artist: Bruce Cayard
(First: Episode 0616)

Muppets
Cookie Monster presents to Ernie his new device "The Cookie Counter" which will notify him of the quantity of cookies inside the box. Cookie Monster points "The Cookie Counter" rod to the box of cookies, which rings five times representing the amount of cookies inside the box. Ernie is impressed by Cookie Monster's device and talks about the benefits the device provides to the audience, simultaneously Cookie Monster eats Ernie's box of cookies. Ernie tests the Cookie Counter by pointing the rod at the box of cookies, the box doesn't ring. Cookie Monster asks Ernie to face the Cookie Counter rod to his stomach; it rings five times as proof of the location of the five cookies.
(First: Episode 0481)

Cartoon
A woodpecker drills through a tree to demonstrate entrada and salida.
(First: Episode 0808)

Muppets
Sesame Street News Flash
Kermit the Frog witnesses how the mailman and salesman knock at the door while the Big Bad Wolf chases Little Red Riding Hood around the bed. Eventually, the Woodsman shows up, and Red and the Wolf chase him for cutting down a maple tree which was their favorite one.
(First: Episode 0621)

SCENE 3
Bob encounters some kids operating a lemonade stand. Big Bird says the glasses on the table are for Snuffy, but Bob doesn't believe him. Bob plays a "Three of These Things" game with the glasses, sorting by quantity, but somehow doesn't see Snuffy drink all four of the glasses through his snuffle.

Cartoon
Magical Herman's number trick
(First: Episode 0773)

Cast
Maria, Luis, Bob, and David, dressed as scarecrows, sing about the ankle, shoulder and knee.
(First: Episode 0711)

Animation
A saw cuts a piece of wood.
(First: Episode 0797)

Cartoon
The Typewriter: O for Owl
(First: Episode 0837)

Muppets
Lefty's boss tells Lefty the plan for what to do with the Golden AN, which they have just stolen. Lefty is to put it in the tan van and give it to Dan, who will take it to Fran. However, Lefty can't remember the plan very well and has to repeat it, which results in a police officer named Stan hearing the plan and giving him "ten days in the can for stealing the Golden AN."
(First: Episode 0523)

Film
A screwdriver slowly drives a screw into the ground.
(First: Episode 0796)

Cartoon
Madrigal Alphabet
Artist: Jeff Hale
(First: Episode 0615)

Film
Kids ride horses.
Music: Joe Raposo
(First: Episode 0541)

SCENE 4
At twilight, Susan and Gordon overhear Bob playing one of his records as they polish their car. They used to dance to the song that's playing, so they try to remember the steps.

Film / Cartoon
The letter O introduces many words he starts.
(First: Episode 0621)

Animation
Counting six red balls
(First: Episode 0278)

Cartoon
Two dots play hide-and-seek amongst different shaped blocks.
(First: Episode 0780)

Cartoon
"Jazz #3" (repeat)

SCENE 5
Gordon and Susan continue dancing as the sponsors are announced.