Sesame Street
Plot
Herry stops the rain by blowing at the sky.
Air date
March 18, 1976
Season
Season 7 (1975-1976)
Sponsors
O, S, 3

This episode guide has been compiled from materials at the CTW Archives.

ⓘ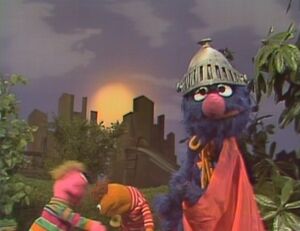 Susan and some Kids plan to go to the park, but it starts to rain. Herry Monster stops the rain by blowing at the sky.
Sam the Machine talks to cars as if they were people. Sam claims that cars have feelings, too.
Lefty's boss tells Lefty the plan for what to do with the Golden AN, which they have just stolen. Lefty is to put it in the tan van and give it to Dan, who will take it to Fran. However, Lefty can't remember the plan very well and has to repeat it, which results in a police officer named Stan hearing the plan and giving him "ten days in the can for stealing the Golden AN." The skit ends with Lefty being taken away, saying, "I should have ran." (EKA: Episode 0668)
Cartoon: A construction worker explains the uses of a folding ruler. (EKA: Episode 0592)
Cartoon: A man claims he knows millions of S words, his favorite being "STOP."
"EN" and "TER" form the word "ENTER."
Film: Three dolphins jump together.
Cartoon: The letter S becomes a snake.
Cartoon: A man doubts a carpenter's knowledge of the saw. (EKA: Episode 0573)
Ernie teases Bert by drawing a tree instead of a three. He also draws a llama and introduces a film on llamas. (First: Episode 0002)
Cartoon: Two dots play hide-and-seek amongst different shaped blocks. (EKA: Episode 0833)
Cartoon: A female head is drawn as its voice-over lists its parts, ending with earrings that "do nothing" ... and promptly wiggle around. (EKA: Episode 0821)