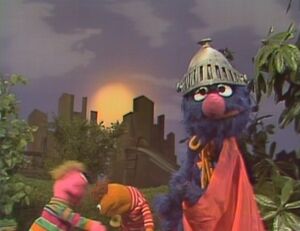 Susan and some Kids plan to go to the park, but it starts to rain. Herry Monster stops the rain by blowing at the sky.
Sam the Machine talks to cars as if they were people. Sam claims that cars have feelings, too.
Lefty's boss tells Lefty the plan for what to do with the Golden AN, which they have just stolen. Lefty is to put it in the tan van and give it to Dan, who will take it to Fran. However, Lefty can't remember the plan very well and has to repeat it, which results in a police officer named Stan hearing the plan and giving him "ten days in the can for stealing the Golden AN." The skit ends with Lefty being taken away, saying, "I should have ran." (EKA: Episode 0668)
Community content is available under
CC-BY-SA
unless otherwise noted.