Sesame Street
Oscar wants the leftover eggshells
Air date
March 22, 1976
Season
Season 7 (1975-1976)

Sponsors
E, R, 5

This episode guide has been compiled from script materials provided by a trusted source.

ⓘ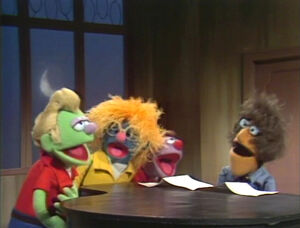 Picture
Segment
Description

SCENE 1
An Anything Muppet demonstrates short and tall, using Big Bird as an example. The viewer sees things from both of their perspectives, then from David's perspective - which is up high, because he's washing the windows at Hooper's Store.

Film
A boy compares the growth of the sunflowers to his own height.
Music: Joe Raposo
(First: Episode 0589)

Cartoon
A short bird stands under a tall bird, which lays an egg on its head.
(First: Episode 0303)

Muppets
Roosevelt Franklin Elementary School: Roosevelt has Baby Breeze teach the class about traffic. Smart Tina thinks all one has to do is look at the traffic lights, but Baby Breeze tells her one should also look out for cars.
(First: Episode 0517)

Cartoon
Jazz #5
(First: Episode 0007)

Muppets
Muppet & Kid Moment — Grover and Polly demonstrate five fingers.
(First: Episode 0279)

Film
Counting the circus clowns.
(First: Episode 0501)

Cartoon
A girl tries to lure her cat out from under the chair so she can pick him up.
Artists: The Hubleys
(First: Episode 0187)

Muppets
Cookie Monster is about to eat a cookie, when a sad-looking girl approaches and stares at him. He tries to eat the cookie, but can't do it. He breaks the cookie in half and shares the cookie with the girl. He eats his half of the cookie. When the girl eats her half, she eats it just like Cookie Monster.
(First: Episode 0623)

Cartoon
Four motorcycle-riding chickens hatch out of an egg.
(First: Episode 0796)

SCENE 2
Luis comes into Hooper's feeling very sleepy, because he watched the late movie on TV last night. David gives him some coffee, then steps out briefly and tells Luis to answer the phone. Every time someone calls, Luis forgets he's at Hooper's, and answers as if he were in the Fix-it Shop. When David finds out about all the "wrong numbers" Luis has been getting, he reminds Luis where he is. Luis goes back to the shop, then answers his own phone "Hooper's Store?"

Cartoon
A red PELI and an explosive green GRO form the word PELIGRO.
(First: Episode 0787)

Muppets
Ernie & Bert — Ernie has a collection of Rs in a box. He shows Bert, who says that Ernie will be the laughingstock of Sesame Street if anyone else finds out. Ernie sadly throws away his Rs - and Bert asks to have the box for his J collection.
(First: Episode 0014)

Cartoon
A ribbon wraps itself around a woman, then turns itself into an R.
(First: Episode 0289)

Film
Letter R hoist
Music: Joe Raposo
(First: Episode 0315)

Cartoon
An owl flies, carrying a sign that says "PELIGRO."
(First: Episode 0787)

Film
A dolphin walks backwards on the water.
Music: Joe Raposo
(First: Episode 0278)

Cartoon
Clouds that look like things.
(First: Episode 0211)

Insert
Bert sits outside on the street, pretending to fly a helicopter. Maria sits down with him, and the segment becomes animated as they fly through the air before returning to the Street.
(First: Episode 0656)

Cartoon
A woman fixes her car by putting a letter r under the hood, and it goes "Rrrrrrrrrrrrrrrrrrr!"
(First: Episode 0410)

Muppets
Sesame Street News Flash: Kermit the Frog helps Don Music finish the "Yankee Doodle" song, then because Don finds the idea of calling feathers macaroni ridiculous, they rewrite it to be a song in which Yankee Doodle stays at home cooking for his pony, puts "fat spaghetti" in a pot and calls it macaroni. Little Chrissy and the Alphabeats then come in and perform the song with Don.

Song
David sings "I'm Pretty" over a film of fish and other sea creatures.
(First: Episode 0389)

SCENE 3
Oscar realizes that he's all out of eggshells, and the garbageman has just left. He goes over to Hooper's, and tells David he's really hungry. David, also hungry, scrambles some eggs with a lot of ingredients, but is offended when Oscar says he just wants the eggshells (he's making eggshell stew). Oscar leaves, and Luis comes in, hungry for some scrambled eggs, which David has already prepared.

Cartoon
Four firetrucks, telephones, ships and men file into a large contraption that produces 4s.
(First: Episode 0798)

Cast
Maria and David find two sets of sacks, which have incorrect numerical labels.
(First: Episode 0505)

Cartoon
A drowsy wagoner gets across a clearing by building a bridge out of his ox-cart, and converting it back again.
Artist: Bruce Cayard
(First: Episode 0616)

Muppets
Ernie & Bert — Ernie's doctor comes over. Ernie keeps trying to tell the doctor why he called him, but the doctor is too occupied with checking on Ernie, hardly allowing him to get a word in edgewise.
(First: Episode 0137)

Cartoon
A man learns that it's better not to pick the flowers.
(First: Episode 0416)

Muppets
Alphabet Chat: Mr. Chatterly tries to discuss the letter R, but everything goes awry.

Cartoon
A door opens behind a mouse, who shrieks when she sees the E.
Artist: Bruce Cayard
(First: Episode 0616)

Muppets
Kermit's Lectures: Two Snerfs (named Sam & Harry) help Kermit teach the difference between tall and short, until they keep changing sizes.
(First: Episode 0015)

Cartoon
E for End
(First: Episode 0460)

Film
To a jazz rhythm soundtrack, the camera zooms in on flowers growing on a tree.
(First: Episode 0156)

SCENE 4
Luis teaches a kid to play the guitar.
Muppets
Story: Bob reads "The King and the Fireman", a story about a king who becomes so grateful for being saved by a fireman that he decides to make everyone in the kingdom a firefighter... and soon realizes what a mistake he's made.
(First: Episode 0278)

Film
A trip to the doctor's office.
Music: Joe Raposo
(First: Episode 0471)

Muppets
Ernie & Bert — Ernie makes a clay bust of Bert, but runs out of clay for the nose, so he pulls Bert's nose off and puts it on the statue.
(First: Episode 0463)

Film
George the Farmer counts 20 barrels.
(First: Episode 0278)

SCENE 5
The kid shows another kid what they just learned from Luis, as the sponsors are announced.