m

Line 1:
Line 1:
−

{{episodesesame|plot=Oscar wants the leftover eggshells.|airdate=March 22, [[1976]]|season=[[Season 7 (1975-1976)]]|sponsors=[[E]], [[R]], [[5]]|syndication=|DVD=}}

+

{{episodesesame|plot=Oscar wants the leftover eggshells.|airdate=March 22, [[1976]]|season=[[Season 7 (1975-1976)]]|sponsors=[[E]], [[R]], [[5]]|syndication=|=}}

 

[[Image:Cmamsharecookie.jpg|thumb|300px]]

 

[[Image:Cmamsharecookie.jpg|thumb|300px]]

 

{{ctw}}

 

{{ctw}}
---
Revision as of 14:49, 18 June 2015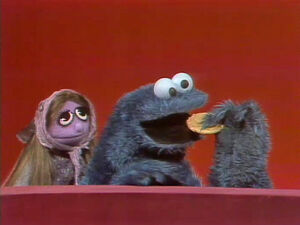 Bert: Bert sits outside on the Street, pretending to fly an airplane. Maria sits down with him, and the segment becomes animated as they fly through the air and around the world before returning to the Street. (EKA: Episode 0720)
Cookie Monster: Cookie Monster is about to eat a cookie when a sad-looking girl approaches and stares at him. He tries to eat the cookie, but can't do it. He breaks the cookie in half and shares the cookie with the girl. He eats his half of the cookie. When the girl eats her half, she eats it just like Cookie Monster. (EKA: Episode 0730)
Cartoon: Clouds that look like things.
Cartoon: Four motorcycle-riding chickens hatch out of an egg. (EKA: Episode 0796)
Hubley animation: A girl tries to lure her cat out from under the chair so she can pick him up. (EKA: Episode 0721)
Cartoon: A red PELI and an explosive GRO form the word PELIGRO. (EKA: Episode 0811)
Cartoon: A drowsy wagoner gets across a clearing by building a bridge out of his ox-cart, and converting it back again. (EKA: Episode 0815)
Film: to a jazz rhythm soundtrack, the camera zooms in on flowers growing on a tree. (EKA: Episode 0842)
Cartoon: A man learns that it's better not to pick the flowers.
Community content is available under
CC-BY-SA
unless otherwise noted.