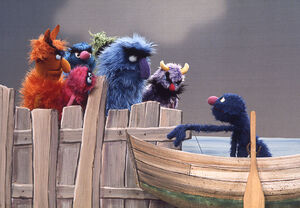 Oscar the Grouch waits for the bus. He wants to ask the bus driver questions, so that the driver will answer "No". Oscar loves the word "No".
Grover: In this three-part sketch, Grover and a group of monsters, including Herry Monster, Fenwick and Billy, get into a rowboat. In part one, the monsters all gather at one end, causing the boat to tip over. In part two, they gather on the other end, and the boat tips over again. In part three, the monsters spread out over the boat evenly, and they row away. (First: Episode 0281)
Ernie & Bert — Ernie asks Bert to keep an eye on his pyramid of blocks. The Count walks by, and counts the blocks, moving them out of the pyramid shape. Then he counts them again, putting them back into the pyramid. Bert yells at the Count for moving Ernie's blocks, so the Count counts the blocks again, taking the pyramid apart. (First: Episode 0406)
Old West: Five good men are needed to form a posse and catch Bad Bart, the meanest man in the West. The sheriff counts five men in the saloon, and tries to organize them. But it turns out that there are only four good men -- one of them is Bad Bart! (EKA: Episode 0600)
Cartoon: At night, a man's toothy smile is shown as he hears the sounds of tools being used ... to demolish his house. (EKA: Episode 0796)
Film: Kids compare animals and human tools and technology. (EKA: Episode 0789)
Mr. Hooper sorts various round objects in different ways.
Cartoon: "Story of R" -- A man and his dog play a film about the letter R, involving a robber who steals a rooster and escapes by rowboat. (First: Episode 0011)
Community content is available under
CC-BY-SA
unless otherwise noted.