Sesame Street
Oscar joins the Grouch Club; Buffy joins the Sesamettes
Air date
April 2, 1976
Season
Season 7 (1975-1976)

Directed by
Jon Stone
Sponsors
J, L, 3

This episode guide has been compiled from script materials provided by a trusted source.

ⓘ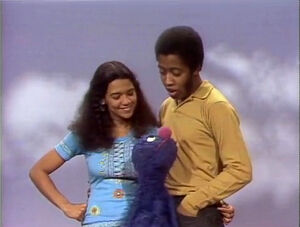 Picture
Segment
Description

SCENE 1
Oscar prefers his own, battered seesaw to the functional one that kids are using. Susan offers to seesaw with him, and he reluctantly agrees. When she sits on her end, she launches Oscar into the air.

Film
A rhino and her baby
(First: Episode 0408)

Cartoon
Speech Balloon: J - Jam
(First: Episode 0012)

Film
In stop-motion, three balls try to match three holes.
(First: Episode 0572)

SCENE 2
Luis offers to assist Big Bird in making a staircase for his nest, but Big Bird says he can do it himself.

Cartoon
Two cowboy rattlesnakes discuss the difference between here and there, while trying to avoid a sneezing rabbit.
Artist: Bud Luckey
(First: Episode 0796)

Muppets
Grover volunteers to assist the Amazing Mumford in his rhyming magic trick, making three things come out of his hat that rhyme with "knee". Grover guesses the first one (key), but doesn't get the last two (ski and tree) right.
(First: Episode 0455)

Cartoon
A girl trains her dog on here and there.
(First: Episode 0769)

Film
Anne Meara narrates a silent film of a woman in a burning building, who needs HELP.
(First: Episode 0506)

Muppets
Bert sings "Doin' the Pigeon".
(First: Episode 0536)

Cartoon
Two lines intersect at the middle of the screen and have an argument; they cooperate by making a cross.
(First: Episode 0276)

SCENE 3
Buffy encounters Oscar, who is disappointed that he didn't get accepted into the Grouch Club. He describes what they do – sing grouchy songs, play kick-the-can, eat stuffed cabbage, etc. – and Buffy finds out that he hasn't even asked to join. She helps him practice asking, which is really hard for a Grouch.

Animation
New Ball in Town: Three striped balls encounter a polka-dotted ball.
(First: Episode 0777)

SCENE 4
Oscar arrives at the Grouch Club meeting (what they call a "grumble"), bringing his best piece of trash: a noisy auto horn. First, the Grand High Grouch displays a new addition to the museum of trash: George Washington's fork. The Grouches all do their club chant, then they discuss the idea of having a Grouch picnic. Oscar finally musters up the courage to say he wants to be a member, and he is accepted with dirty arms.

Cartoon
A man jumps into a poster of Lake Lillian.
(First: Episode 0347)

SCENE 5
Oscar shows Buffy the new hat he got at the Grouch Club, and reluctantly thanks her for helping him earlier.

Cartoon
Speech Balloon: L for Light
(First: Episode 0147)

Film
Things you can carry
Music: Joe Raposo
(First: Episode 0515)

Cartoon
L es para luz
(First: Episode 0373)

Muppets
Roosevelt Franklin Elementary School: Roosevelt Franklin teaches the class the difference between "here" and "there". He demonstrates by having a letter for Hardhead Henry Harris (here), and delivering it to him (over there), with Smart Tina portraying a mailbox, and Baby Breeze taking it to him. Upon reading the letter, Harris is insulted and chases Roosevelt.
(First: Episode 0713)

Film
Sesame Street Animal Films: A film of camels eating.
Music: Joe Raposo
(First: Episode 0388)

Cartoon
The weary traveler asks the Wise Man to demonstrate "here" and "there." He does so by throwing his household items off the cliff.
(First: Episode 0769)

Muppets / Cast
Maria and David help Grover understand that there can refer to anyplace that you are not, no matter how far away you may be.

Muppets
A group of female Anything Muppets sing about the many things "Women Can Be."
(First: Episode 0773)

Film
Sesame Street Animal Films: Swimming and flying pelicans.
Music: Joe Raposo
(First: Episode 0322)

Celebrity
Lily Tomlin, dressed as a cheerleader, gives a cheer for the parts of the body.

Muppets
Grover, Herry Monster, and Billy rearrange themselves in different ways and count to three, until they get exhausted and faint.
(First: Episode 0186)

Song
"Three Is My Favorite Number"
(First: Episode 0429)

Cartoon
Numbers from 1 to 20 line up, but 17 is missing.
(First: Episode 0536)

Muppets
Ernie & Bert — Ernie reads Bert a dramatic story that he's just written. The "story" is actually the alphabet, which Ernie reads in an overwrought manner.
(First: Episode 0009)

Film
A showcase of J words
(First: Episode 0631)

Cartoon
Simple Simon meets some strange-looking animals, all of whom have their parts switched around.
Artist: Jeff Hale
(First: Episode 0540)

Cartoon
'j' minuscula
(First: Episode 0475)

Film
An ice cream man hands a boy too many cones. The boy cries out for "HELP" and some kids eat the extras.
(First: Episode 0484)

Cartoon
J family jamboree
(First: Episode 0365)

Cartoon
Jughead Jones's J story
(First: Episode 0231)

Muppets
Anything Muppet cheerleaders sound out the word "rocket," then witness a rocket blasting off.
(First: Episode 0567)

SCENE 6
Buffy joins a singing quartet called "the Sesamettes", consisting of Maria, David, Luis and Susan. She introduces an Indian instrument called the mouth bow, and joins them in playing "Cielito Lindo". The sponsors are announced and the credits roll.