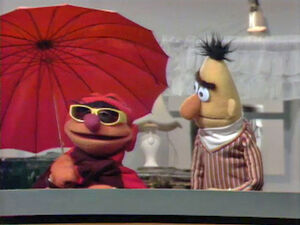 Buffy joins a singing quartet called "the Sesamettes". She introduces an Indian instrument called the mouth bow.
Cartoon: The weary traveler asks the Wise Man to demonstrate "here" and "there." He does so by throwing his household items off the cliff. (EKA: Episode 0814)
Cartoon: "Joe And The Junebug" -- Two boys are told of a man named Joe who is sent to jail after jamming a june bug into a jar and a tire pump. (First: Episode 0009)
Film: Anne Meara narrates a silent film of a woman in a burning building, who needs HELP.
Animation: A red ball with dots tries to join a group of red balls with black stripes. (EKA: Episode 0839)
Cartoon: Simple Simon meets some strange-looking animals, all of whom have their parts switched around. (EKA: Episode 0822)
Cartoon: Numbers from 1 to 20 line up, but 17 is missing. (EKA: Episode 0536)
Celebrity: Lily Tomlin, dressed as a cheerleader, gives a cheer for the parts of the body.
Community content is available under
CC-BY-SA
unless otherwise noted.