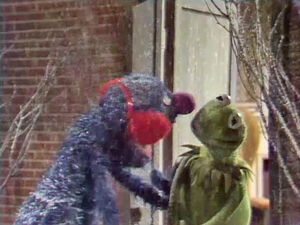 Oscar the Grouch shows pictures of his relatives. Everybody discovers that all the members of the Grouch family look exactly alike.
Big Bird learns how to start a babysitting service.
Several Muppets sing and count floors, while going up and down in an elevator.
Kermit at Home: Grover is outside in the snow, freezing. He keeps knocking on Kermit's door, asking how to get warm, and Kermit keeps telling him to come inside. Grover, missing the point, tries ideas of his own to get warm, but they don't work. Finally, Kermit tells Grover that if he wants to get warm, he should come inside. Excited, Grover pulls Kermit aside and slams the door, locking Kermit outside. Grover goes to sleep in Kermit's armchair while the frozen frog scrapes at the window. (EKA: Episode 0598)
Community content is available under
CC-BY-SA
unless otherwise noted.