Sesame Street
Luis, Maria and the Kids play the "Feely Box" game.
Air date
April 13, 1976
Season
Season 7 (1975-1976)

Sponsors
D, U, 10

This episode guide has been compiled from script materials provided by a trusted source.

ⓘ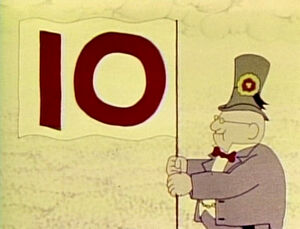 Picture
Segment
Description

SCENE 1
Bob and the kids sing "Right in the Middle of My Face."

Muppets
Harvey Kneeslapper tells a knock-knock joke which results in a "D" on his opponent's chest.

Animation
Sand D/d

Film
(LA/ANIM) Chicken five (0:28)

Cartoon
Jazz #10
(First: Episode 0021)

Film
A look at the life of Colleen, who lives in Arizona.
Music: Joe Raposo
(EKA: Episode 0679)

Cartoon
Letter U salesman
(First: Episode 0202)

Film
Luis announces "And now, the octopus!"
Music: "Pomp and Circumstance"
(EKA: Episode 0291)

Muppets
Muppet & Kid Moments: Kermit the Frog, Shola and Fannie have just finished watching the previous film. Shola hugs Kermit, and he comments, "She learned a lot from the octopus ... how to squeeze!"
(First: Episode 0534)

Cartoon
A wrench turns screws.

SCENE 2
Luis, Maria and several Kids play the "Feely Box" game. It consists of sticking their arms inside a box and feeling an object that they can't see.

Cartoon
The man is only afraid of one thing: FEAR.
(EKA: Episode 0816)

Muppets
Ernie and Bert: At the movies, Ernie reacts to a sad, funny, scary movie, to Bert's embarrassment and the annoyance of the other viewers.
(First: Episode 0627)

Cartoon
A baby rescues a ball from on top of a column.
Artist: John and Faith Hubley
(EKA: Episode 0198)

Muppets
The letter F joins U and N to make the word FUN. Some Anything Muppets appear in to have fun.
(First: Episode 0458)

Muppets
Grover opens a menu and shows Mr. Johnson a large picture of the special sandwich, which comes with potato chips on the side, a pickle on the top, and olive stuck in with a toothpick. When the sandwich arrives, Mr. Johnson complains that it doesn't match the picture on the menu -- it doesn't have potato chips, a pickle, or an olive.
(First: Episode 0332)

Cartoon
Jazz #10 (Spanish)
(First: Episode 0021)

Cast
Maria and The Anything Muppets sing "The People in Your Neighborhood", introducing a fisherman and a farmer.

Film
To a jazz rhythm soundtrack, the camera zooms in on flowers growing on a tree.
(EKA: Episode 0842)

Cartoon
Weigher (0:32)

Muppets
Lefty wants to sell Ernie a scale. He uses two pounds of bananas and two pounds of apples to demonstrate how the scale works. Ernie is impressed, but he already has a scale at home. However, he wants to buy some of the apples and bananas.
(First: Episode 0449)

Cartoon
"Daddy Dear"
(EKA: Episode 0406)

Muppets
Muppet & Kid Moments: Grover and Polly recite the alphabet.
(First: Episode 0281)

Cartoon
Speech Balloon: U for Umbrella
(First: Episode 0038)

Muppets
Muppet & Kid Moments: Kermit the Frog and Brian demonstrate the parts of the face.
(First: Episode 0126)

SCENE 3
While David cleans up Hooper's Store with some kids, they look up in the sky and see Alphabet Bates skywrite the letter D. They identify "D" items in the store, including David.

Muppets
Cookie Monster introduces the word "AMOR."
(First: Episode 0601)

Cartoon
Two green martians fight over a flower, until they see a monolith crumble to form the word AMOR.

Muppets
Super Grover tries to stop a fight between Sammy and Frankie, who are fighting over an apple.
(First: Episode 0682)

Celebrity
Helen Reddy sings "Wonder Child."
(First: Episode 0774)

Cartoon
Before and after - Several kids are sad, but become happy when a fruit vendor appears.

Muppets
Ernie & Bert: Ernie wants to have some cookies. Bert asks Ernie if he knows what "before" means, and Ernie demonstrates by saying that before he can have a cookie, he has to open the lid to a cookie jar, and after he closes the lid, he eats the cookie. He demonstrates a few times, until he loses his appetite for dinner.
(First: Episode 0007)

Cartoon
Antes y despues - Several kids are sad, but become happy when a fruit vendor appears. (Spanish version)
(EKA: Episode 0823)

Film
(LA) Train song (1:19)

Cartoon
A U train spells the words "unite," "U-turn," "underground," "up," and "universe."
(First: Episode 0624)

Cast
Maria tries to build a block tower that matches an already-built one.
(First: Episode 0460)

Cartoon
A clam tells a fisherman why he's not catching any fish: he pulled all the plants out of the pond.
(EKA: Episode 0851)

Muppets
Sesame Street News Flash
The Wicked Witch from the Snow White story plans to fool the mirror into saying that she is the fairest -- but she hasn't counted on Kermit hiding behind a curtain. When she sees him, she realizes that he really is pretty good-looking.
(First: Episode 0685)

Animation
A grape blows reveille and inspects the "troops" -- 12 raisins on a slice of white bread.
(EKA: Episode 0810)

SCENE 4
Luis plays a bilingual "Three of These Things" game with the kids using items from his lunch.

Film
D is a very useful letter -- there are animals, jobs, and hobbies that begin with D.
(EKA: Episode 0397)

Film
(LA) Bricks #10 (0:40)

SCENE 5
As Luis finishes fixing a radio, Bob comes back with a pizza, having left briefly. They gather the kids around to share the pizza as the sponsors are announced.