Sesame Street
Maria reassembles a radio for Cookie Monster
Air date
April 15, 1976
Season
Season 7 (1975-1976)

Sponsors
O, X, 12

This episode guide has been compiled from script materials provided by a trusted source.

ⓘ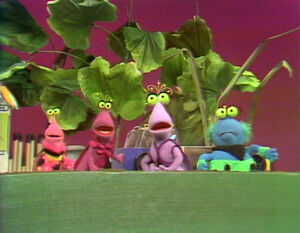 Picture
Segment
Description

SCENE 1
Maria and David have lunch in the arbor, happy to be alone together. David is about to ask Maria something, when Big Bird joins them, not quite understanding the concept of being alone. David explains it to him, and Big Bird leaves them alone … until he fetches Luis, Grover and some kids so they can all be alone together!

Muppets
Ernie & Bert — Ernie has gone shopping -- buying bread for himself, and peanut butter for Bert. They realize that it's dull to eat what they have separately, and they decide to cooperate, so they can each have a peanut butter sandwich.
(First: Episode 0279)

Animation
Two small stripes watch as two circles play with each other. The stripes try to bend themselves into circles, but soon find that they can both cooperate to make one big circle.
(EKA: Episode 0829)

Film
Marching band forms a square
(First: Episode 0514)

Cartoon
A lost man in the desert asks a stranger for directions to the city. He builds a pretend city out of sand to show what it looks like. As it turns out, the stranger is an alien.
(First: Episode 0763)

Muppets
Charlie is lost and finds a policeman. It's his Uncle Louie, but he doesn't recognize him in uniform. Without the uniform on, Charlie asks Uncle Louie to find him a policeman.
(First: Episode 0135)

Cartoon
A baby bird falls from a tree. A boy puts him back, and in return, the mother bird saves the boy from embarrassment.
(EKA: Episode 0581)

Cartoon
Speech Balloon: O for Open
(First: Episode 0014)

Film
Raposo: Letter O hoist.
(First: Episode 0338)

SCENE 2
Cookie Monster enters the Fix-It Shop with a radio he just got in the mail. He's sad because it arrived broken, but with the help of a diagram that came with the radio, Maria is able to reassemble it so that Cookie Monster can devour it. (Maria: "He gets me every time.")

Film
I've a mind (0:52)

Film
Baby animals nurse.
Music: Joe Raposo
(First: Episode 0546)

Muppets
The Twiddlebugs try to get to the zoo.
(First: Episode 0603)

Cartoon
On a snowy day, a cold man desires firewood. He carries a huge log up the hill multiple times, but it rolls down each time. Using his "wits", he pushes his house down to the bottom of the hill to be closer to the giant log.

Film
A baby monkey
Music: Joe Raposo
(EKA: Episode 0302)

Cartoon
Sand O/o
(First: Episode 0621)

Cartoon
La letra O - opera, oeste, orquidea, ojos, ocho, y el orquestra de orangutanes.
(EKA: Episode 0413)

Muppets
Sesame Street News Flash
Kermit the Frog interviews a servant who tells him that the queen wants to test the maiden by placing a cookie under the mattresses to see if she can feel it. The princess (Cookie Monster) lies down, feels it, and devours the mattresses.
(First: Episode 0417)

SCENE 3
Maria and the kids play a "Three of These Things" game using pictures of animals and a carrot.

Cartoon
A man illustrates 'between' in various situations throughout his work day.

Cartoon
"Ladybugs' Picnic"
(First: Episode 0416)

Film
Kids narrate a visit to an automobile factory, and watch a taxi being made.
(EKA: Episode 0242)

Cartoon
A square is fit into many different things, such as a truck, window, television, etc.
(EKA: Episode 0386)

Muppets
An Anything Muppet boy and girl have a conversation using the letters of the alphabet.
(First: Episode 0273)

Cartoon
Three children are being chased by a giant mutant rabbit as fast rock music accompanies the chase. They outsmart him by hiding behind three trees.
Artist: Etienne Delessert
(EKA: Episode 0666)

Insert
The Count interacts with the Little Theater of the Deaf.
(First: Episode 0687)

Cartoon
A girl uses her paint-by-the-numbers set to find an elephant in her picture.
(EKA: Episode 0803)

Muppets
Muppet & Kid Moment — Ernie, Bert, and Shola illustrate "between."
(First: Episode 0542)

Cartoon
A mouse is squashed between two elephants.
(First: Episode 0779)

Cartoon
The letter X
(First: Episode 0482)

Cartoon
Brand X
(EKA: Episode 0351)

Film
Stop-motion: in a park, a garbage man puts litter in a trash can. (Part 1)
(EKA: Episode 0811)

Cartoon
A baby cries whenever he gets a beso.
(EKA: Episode 0433)

Film
Stop-motion: in a park, a man reads a newspaper, then shamelessly drops it on the ground. A little girl finds this disgusting, and puts the newspaper in the trash bin. (Part 2)
(EKA: Episode 0811)

Cartoon
The letters in the word BESO kiss each other.
(EKA: Episode 0869)

SCENE 4
David, upon learning that Kojak starts in five minutes, is in a hurry to close Hooper's Store. When Super Grover comes crashing in to the rescue, David tells him what to do, and rushes off. Following David's orders, Grover turns off the lights, closes the window, and slams the door … forgetting to go outside before doing so.

Film
Footage of a coral reef, showcasing the plant life and the fish.
Music: Joe Raposo
(First: Episode 0466)

SCENE 5
Maria encounters Super Grover, having locked himself inside Hooper's. He leaves to catch a bus as the sponsors are announced.