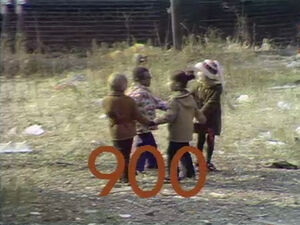 This episode is adapted from the 1975 album Bert & Ernie Sing-Along. It was written by Joseph A. Bailey, who later recalled:
Notes
This episode has the entire street plot play as one continuous segment (save for scene 2) before various inserts play, a precursor to the standard street scene format of the show used since season 33.
Episode

Picture
Segment
Description

SCENE 1
We open on Bert, singing the "Sesame Street Theme" while taking a peaceful bath. Ernie overhears him singing, and decides to host a sing-along in the bathroom. He drags the piano into the bathroom and starts playing, but Bert insists "I Refuse to Sing Along".

SCENE 1
cont'd
Despite Bert's protests, more people start showing up for the sing-along: David brings his guitar, Gordon brings his bass fiddle, and Bob and Maria bring themselves. They all sing "John Jacob Jingleheimer Smith".

SCENE 1
cont'd
As Bert repeatedly asks for a towel, Big Bird enters with a glockenspiel and he sings "Cheer Up" as the others join in.

SCENE 1
cont'd
The Count enters, counting the people in the bathroom, as well as the tiles. They ask him for a song, and he entertains with "Bats in My Belfry", until he is shoved into the shower.

SCENE 1
cont'd
Grover enters with a banjo, and leads everyone in "On Top of Old Smokey".

SCENE 1
cont'd
David leads everyone (including the viewer) in "Stand Up and Pinch Your Nose".

SCENE 1
cont'd
Big Bird feels unable to participate since he doesn't wear clothes. Bob sings a guessing game song: "I'm Going Somewhere".

SCENE 1
cont'd
Gordon wonders, "What's the Name of That Song?" and soon, so do the others. Near the end, Mr. Hooper arrives and asks the question one last time. The Count peers out, and claims he knows the name of that song: "One million and one bats hanging in the belfry".

SCENE 1
cont'd
The cast enters into a reprise of "What's the Name of That Song?" as Bert finally joins in with a rendition of "Sing". Everyone joins him, including Snuffy whose snuffle appears from behind the shower curtain (which, naturally, only Big Bird notices).

Cartoon
I've Got a Mind: wind-up toy
(First: Episode 0255)

Film
Flamingos
Music: Joe Raposo
(First: Episode 0450)

Animation
Sand M/m
(First: Episode 0620)

Cartoon
M in space (voice by Ginny Tyler)
(First: Episode 0516)

Cartoon
The word BUS
(First: Episode 0277)

Film
At a fiesta, a group of kids try to break through a piñata.
(First: Episode 0620)

Cartoon
A man uses drinking glasses on his eyes and pours water over his seeing glasses.
(First: Episode 0485)

Muppets
Cookie Monster is about to eat a cookie when a sad-looking girl approaches and stares at him. He tries to eat the cookie, but can't do it. He breaks it in half and shares it with the girl. He eats his half. When the girl eats hers, she does so just like him.
(First: Episode 0623)

Cartoon
A little girl shows the building and apartment where she lives -- both with the number 6.
(First: Episode 0783)

Film
Grasshopper (harpsichord 50s-style music)
(First: Episode 0084)

Cast
Captain Under-Wonder (Luis) shows how he goes under an umbrella, a table and the tire swing (the latter by shrinking himself down).
(First: Episode 0508)

Cartoon
Jazz #7
(First: Episode 0136)

Muppets
Maria tells the story of "The King's Problem".
(First: Episode 0407)

Film
Things that start with M
(First: Episode 0620)

Cartoon
M is for Marvelous Martha
(First: Episode 0013)

Film
Counting 20 boxes
Music: Joe Raposo
(First: Episode 0510)

Muppets
Kermit's Lectures: Kermit and Grover demonstrate the difference between heavy and light. Grover carries heavy objects, and Kermit carries light objects. Grover gets tired, and asks Kermit if he can carry something light for a change. Kermit obliges. He carries a giant sandwich... while Grover picks up a helium balloon, which carries him away!

Cartoon
Heavy and light characters are weighed on a scale.
(First: Episode 0843)

Film
A woman counts 20 backflips performed by a monkey.
(First: Episode 0217)

Cartoon
What if a turtle and rabbit switched appearances?
(First: Episode 0451)

Muppets
Herbert Birdsfoot wants to demonstrate the letter M. Grover enters, making "Mmmmm" noises, so Herbert uses Grover to help him tell a story using M words. When the story is over, Herbert discovers that Grover's mouth is stuck together after eating peanut butter.
(First: Episode 0276)

Film
A kid marching band forms a triangle.
(First: Episode 0531)

Animation
Sand M/m (repeat)

Muppets
Kermit the Frog, Smart Person, helps Max Ferbilfeemer (Luis) learn the difference between happy and scared.
(First: Episode 0704)

Cartoon
With one mighty blow of his baseball bat, a boy knocks several B items (including a basket, bandit, and ball) off of a wall.
Voice: Casey Kasem
(First: Episode 0237)

Cartoon
The Typewriter: B for Ball
(First: Episode 0829)




SCENE 2
After everyone else has left, Ernie drags the piano out of the bathroom. Just when Bert thinks it's all over, Ernie remembers that he invited the University of Michigan marching band, which is overheard playing a march. As Bert invites the marching band into the bathroom, the Count announces the sponsors and the standard credits and closing theme follow.




CLOSING SIGNS
Ernie and Bert hold up the Sesame Street sign, while the Count holds up the CTW sign at the end.
Sources