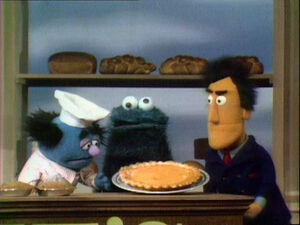 Oscar the Grouch is going to take a photo of Mr. Hooper and Bob, but they are too far apart. They get closer and closer until they overlap and vanish from sight.
Bob and Mr. Hooper try to find out what would happen if the torn newspaper on top of the stack was placed in a different position.
Big Bird does imitations of other birds.
Count von Count: The Count has come to order hot dogs -- lots of hot dogs. But when Grover refuses to get more hot dogs because the Count will only count them and not eat them, the Count uses a hypnotism spell to get more. (First: Episode 0644)
Cookie Monster: Cookie Monster comes to the bakery looking for something delicious that rhymes with BUY. He tries the I (from the MIKE'S BAKERY sign) and the baker's TIE, both of which aren't that delicious. Finally, Guy Smiley comes in and loudly announces that he would like to BUY a PIE. Cookie then knows what he can get in the bakery that rhymes with BUY and is delicious: it's GUY! A chase ensues, and Cookie requests for the baker to send him the bill. (First: Episode 0481)
Cartoon: "Nelly 1-10/10-1": Numbers are counted in a parade, interrupted by people and things. (First: Episode 0629)
Cartoon: Two monkeys argue over what to watch on TV, growing bigger the angrier they get. (First: Episode 0762)
Ice Follies: Grover and Cookie Monster get into various antics on the ice while playing leap frog.
Cast: Maria and Luis assemble a fractured letter "a."
Community content is available under
CC-BY-SA
unless otherwise noted.