Sesame Street
Oscar takes a photo of Mr. Hooper and Bob
Air date
April 29, 1976
Season
Season 7 (1975-1976)

Sponsors
A, X, 11

This episode guide has been compiled from script materials provided by a trusted source.

ⓘ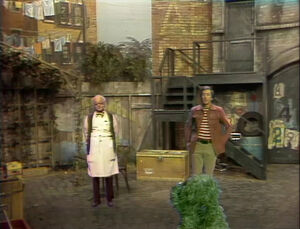 Picture
Segment
Description

SCENE 1
At Hooper's Store, Mr. Hooper is puzzled that no one ever takes the top issue of the newspaper in the bin, going for all the issues underneath instead. He and Bob try to find out what would happen if the torn newspaper on top of the stack was placed in a different position. Susan comes by and picks up the second (bad) paper, not caring about how dirty it is. Oscar comes by, wondering where the "good" (dirty) paper went. He settles for a clean newspaper, which he proceeds to tear up himself.

Cartoon
Speech Balloon: A for Ape
(First: Episode 0006)

Muppets
Cookie Monster: Cookie Monster comes to the bakery looking for something delicious that rhymes with BUY. He tries the I (from the MIKE'S BAKERY sign) and the baker's TIE, both of which aren't that delicious. Finally, Guy Smiley comes in and loudly announces that he would like to BUY a PIE. Cookie then knows what he can get in the bakery that rhymes with BUY and is delicious: it's GUY! A chase ensues, and Cookie asks the baker to send him the bill.
(First: Episode 0481)

Animation
Arthur and Annie look for the letter A, while a shadowy figure observes all the A words they say.
Features the voice of Jim Thurman
(First: Episode 0781)

Song
"The Ball Goes Up, The Ball Goes Down"
(First: Episode 0773)

Cartoon
The Typewriter: A for airplane
(First: Episode 0770)

Celebrity
Bill Cosby demonstrates what a surprised face looks like.
(First: Episode 0138)

Cartoon
A man tries to figure out where a squeaky sound is coming from; it turns out to be a giant's squeaky shoes. "Surprise!"
(First: Episode 0770)

SCENE 2
Oscar is going to take a photo of Mr. Hooper and Bob, but they are too far apart. They get closer and closer until they overlap and vanish from sight.

Cartoon
A man displays his invention, the A-box, which only takes the letter A.
(First: Episode 0781)

Film
Baby turtles swim around.
Music: Joe Raposo
(First: Episode 0294)

Muppets
Sesame Street News Flash
Instead of a bone, Old Mother Hubbard brings her dog various objects which rhyme with "bone", including a stone, a throne, and finally a phone (which the dog uses to order take-out from a Chinese restaurant).
(First: Episode 0642)

Film
Traffic light.
(First: Episode 0131)

Cartoon
"Young MacDonald Went to Town"
(First: Episode 0787)

Cartoon
What Do You Do With a Pet?
(First: Episode 0465)

SCENE 3
Bob and the kids listen as Big Bird does imitations of other birds.

Muppets
The Hands count to 11.
(First: Episode 0217)

Muppets
Waiter Grover: The Count has come to order hot dogs - lots of hot dogs. But when Grover refuses to get more hot dogs because the Count will only count them, and not eat them, the Count uses a hypnotism spell to get more.
(First: Episode 0644)

Cartoon
"It's a Lovely Eleven Morning"
Artist: Bud Luckey
(First: Episode 0362)

Film
Sesame Street Animal Films: Fish swim around.
Music: Joe Raposo
(First: Episode 0284)

Cartoon
"Nelly 1-10 / 10-1": Kids count numbers in a parade, which are interrupted by other participants.
Artist: Harvey Kurtzman
(First: Episode 0629)

SCENE 4
As it rains, Bob and Mr. Hooper exit the store, accidentally taking the other's coat and umbrella. They figure out whose is whose by identifying details on them.

Song
Sesame Street Animal Films: Joe Raposo sings George Gershwin's "Funny Face."
(First: Episode 0006)

Cartoon
Two monkeys argue over what to watch on TV, growing bigger the angrier they get.
(First: Episode 0762)

Muppets
Ernie & Bert — At the movies, a lady with a tall hat sits in front of Ernie and Bert. She block's Ernie's view, so he asks her if she'd mind taking it off. When she places the hat on the seat next to her, Bert's view is now obstructed.
(First: Episode 0538)

Film
People of all ages ride bicycles.
Music: Joe Raposo
(First: Episode 0616)

Cartoon
The letter X
(First: Episode 0482)

Animation
Sand X/x
(First: Episode 0638)

Muppets
Little Chrissy and the Alphabeats sing "Exit" as the audience leaves the room.
(First: Episode 0666)

Cast
Luis looks for the exit in a brick room.
(First: Episode 0407)




Film
"Head To Toe Puzzle": Two kids put together a life size jigsaw puzzle of a human body.
(First: Episode 0024)

Cartoon
The Story of Cowboy X, with the voices of Jean Shepherd
(First: Episode 0325)

Muppets
At the Ice Follies, Grover is asked by Kermit (in voiceover) to demonstrate Near and Far.

Insert
Three of These Kids are wearing winter gear in the cold, but one is not.
(First: Episode 0463)

Muppets
Ernie & Bert — Ernie comes home to a sleeping Bert and tries to think of things to do that won't wake him up. He can't watch TV, and he can't play with his ball. Bored, he decides to take a nap too -- but then he starts to snore. This awakens Bert, who wonders out loud where the noise is coming from, in the process arousing Ernie, who gets mad at being woken up.
(First: Episode 0280)

Cast
Maria and Luis assemble a fractured letter "a."

Cartoon
"That's About the Size of It"
Artist: Bud Luckey
(First: Episode 0279)

Transition
Bridge #5 - 4 Corner Bridge C
(First: Episode 0282)

SCENE 5
The sponsors are announced.