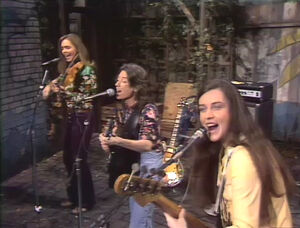 Picture
Segment
Description

SCENE 1
Oscar witnesses as Bob and Linda run into each other and have a pleasant exchange, and tries to sabotage their conversation by answering Bob's questions to her. Bob explains to Linda that Oscar is bothering him while he talks to her, and she yells at Oscar in sign language, thus "out-grouching" him.

Film
Sesame Street Animal Films: Penguins take a bath.
Music: Joe Raposo
(First: Episode 0233)

Film
Five bugs are counted, until one bug engulfs the other four.
Artist: Etienne Delessert
(First: Episode 0628)

Muppets
Muppet & Kid Moment — David says he can count to twelve hundred, but Farley would prefer just hearing him count to twelve.
(First: Episode 0291)

Film
George uses barrels to count to ten.
(First: Episode 0293)

Cartoon
H - Horse
(First: Episode 0474)

Film
Letter H hoist
Music: Joe Raposo
(First: Episode 0336)

Cartoon
H for hair
(First: Episode 0475)

Celebrity
The Deadly Nightshade perform "Keep On the Sunny Side."

Muppets
Ernie and Cookie Monster note that they're the same in a lot of ways, and then become paranoid that they can't tell each other apart. An Anything Muppet tells them how they are different, which relieves them of their stress.
(First: Episode 0635)

Song
"1-2-3-4-5!"
(First: Episode 0144)

Film
Five Song (Song of Five)
(First: Episode 0006)




Muppets
Ernie & Bert — Ernie and Bert have difficulty scratching their backs, so both help each other scratch their back. While Ernie's itch takes a little too long to scratch, he introduces a film called "Everybody Scratch." After the film, Ernie notices that Bert has stopped scratching his back; Beautiful Day Monster is.
(First: Episode 0012)

Cartoon
A man talks about the word AGUA, which springs many leaks.
(First: Episode 0448)

Cast
Linda signs the word "water", which is "agua" in Spanish.

Cartoon
Todo el mundo necesita agua
(First: Episode 0780)

Insert
Three of These Kids (upside-down girl)
(First: Episode 0413)

Cartoon
Christopher Clumsy demonstrates the things feet can do.
Artist: Cliff Roberts
(First: Episode 0455)

Muppets
Ernie & Bert — While Ernie looks after Hooper's Store, Bert asks him for something to drink. Ernie starts out with a glass of unflavored soda water, tastes it, and decides it's too dull for his ol' buddy Bert. To Bert's dismay, Ernie then adds some strawberry syrup to the soda water, then a scoop of ice cream, and finally, some whipped cream. Now it's an ice cream soda, which Bert doesn't want... but Ernie does.
(First: Episode 0539)

Film
A boy pretends a wagon is a bus. His friend tells him it's not a bus, and explains what her father, a real bus driver, does.
(First: Episode 0181)

Cast
Linda signs the word "love".

Cartoon
A cat chases a mouse into a mouse hole. The cat and mouse make music as they hit the wall, until the cat breaks through the mouse hole.
Artist: The Hubleys
(First: Episode 0244)

Cast
Linda signs the word "walk".

Film
Two box-beings make each other look same and different by piling different objects on each other.
(First: Episode 0226)

Cast
Linda signs the words "open" and "closed".

Song
"Hello, Scale," a film about measuring weight.
(First: Episode 0578)

SCENE 2
Maria, David and the kids watch as Linda tells the story of "The Three Little Pigs" in sign language.

Muppets
Grover volunteers to assist the Amazing Mumford in his rhyming magic trick, making three things come out of his hat that rhyme with "knee". Grover guesses the first one (key), but doesn't get the last two (ski and tree) right.
(First: Episode 0455)

Cartoon
Workmen construct a D building, filled with everything that begins with D.
(First: Episode 0406)

Film
Folk song: Have You Ever Been To The Farm?
(First: Episode 0138)

Film
D is a very useful letter -- there are animals, jobs, and hobbies that begin with D.
(First: Episode 0367)

SCENE 3
Mrs. Wiggins comes into Hooper's Store, feeling "tired, T for tired". She tells David about the long day she's had, fixing steps and unclogging drains, pointing out that she dislikes dirt, which is a D word. David points out that D is one of today's sponsors, and she lists a bunch of D foods that she could eat, but David only has dill pickles and donuts. Instead, he combines a few different foods to make up a dinner for her.

Cartoon
A small man and his assistant Dudley attempt to demonstrate both the capital and lower-case letter D.
(First: Episode 0016)

Muppets
Stuie Monster and the Aristocrats sing "Fur".
(First: Episode 0812)

Cartoon
The Typewriter: D - Daisy
(First: Episode 0795)

SCENE 4
Biff finishes hammering a piece of wood on a work bench. Without saying a word, Sully lets him know he didn't do the job right. Biff gets defensive, but then realizes Sully wasn't making fun of him.

Muppets
Professor Grover talks about parts of the head, with help from a reluctant Maria.
(First: Episode 0728)

Transition
Bridge #6 - 4 Corner Bridge D
(First: Episode 0282)

SCENE 5
The sponsors are announced.
Community content is available under
CC-BY-SA
unless otherwise noted.