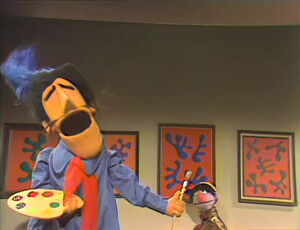 Oscar the Grouch takes guitar lessons. He practices until he sounds really awful.
David has trouble learning to ride a bike.
Sesame Street News Flash: Aladdin is distressed that his lamp won't work until Kermit informs hims that he needs to add a light bulb, plug in the cord, and turn the switch. All the while, the Genie wisecracks about his job and trying to get some sleep inside a lamp.
Biff hangs Salvador Dada's paintings in an art gallery. The one with 2 splunges is called #2, the one with 3 splunges is called #3, and the one with 4 splunges is called #4. However, when Biff figures them out, he predicts the painting with 5 splunges is called #5, but Salvador calls that one "Chicken Soup." (EKA: Episode 0707)
Cartoon: Ten little Greeblies (bug-like creatures) keep getting separated from their group, teaching a lesson in counting backward. (First: Episode 0006)
Cartoon: Two kids find different uses for a cooking pot. (EKA: Episode 0825)
Cartoon: What if a frog and a fly switched bodies? What do you think would happen? (EKA: Episode 0406)
Cartoon: A man talks about going to the city, without noticing he's walking right through it. (EKA: Episode 0843)
Cartoon: Abierto: Ali Baba arrives a bit late and gets run over by the 40 thieves leaving. (EKA: Episode 0573)
Cartoon: 3 song (butterflies, birthday presents, waving pennants etc.)