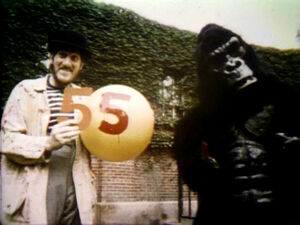 Gordon points out that the letters "E" and "F" are sometimes confused.
Susan describes the job of a visiting nurse.
The Mad Painter's quest to paint a 5 leads to the zoo, and a gorilla. He finds something to paint his 5 on, and it's a big yellow ball. Even the gorilla helps him out, and they give each other a "5". (EKA: Episode 0420)
Cartoon: A postal worker tells the viewer what the post office is good for.
Film: to a jazz rhythm soundtrack, the camera zooms in on flowers growing on a tree. (EKA: Episode 0842)
Cartoon: First, Middle, Last (men on horse)
Cartoon: A 5 legs stick out of a barrel, belonging to a five-legged woman. (EKA: Episode 0859)
Cartoon: A troll draws different faces on herself in front of a mirror. (EKA: Episode 0834)